White chocolate chip cookies recipe
"Just the right amount of white chocolate pieces so that you seem to get one in every bite"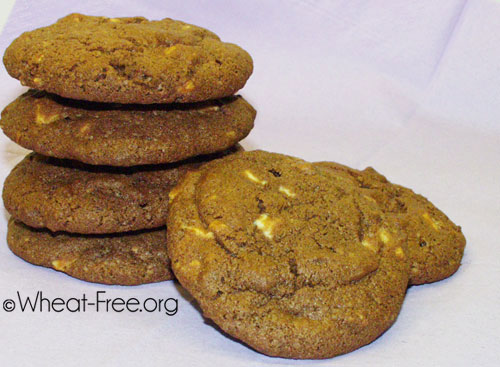 Allergy Information
| | |
| --- | --- |
| Wheat-Free | |
| Gluten-Free | |
| Nut-Free | |
| Dairy-Free | |
| Sugar-Free | |
| Vegetarian | |
| Vegan | |
White chocolate chip cookies... perfect with afternoon tea or coffee, as a treat in a school bagged lunch, or for anytime that a cookies seems like the ideal snack, especially good with a mug of hot chocolate.
These cookies are nice and crunchy, and have just the right amount of white chocolate pieces so that you seem to get one in every bite. Of course, perfectionists would argue that white chocolate isn't really chocolate at all, but who am I to be picky? They taste good and that's all that matters to me.
Ingredients
115g
[

115g

]
low-fat spread, margarine or butter
50g
[

50g

]
sugar, granulated
1 large
[

1 large

]
egg, beaten
1⁄2 tsp
[

1⁄2 tsp

]
vanilla extract
2 tbsp
[

2 tbsp

]
cocoa powder, unsweetened
1⁄2 tsp
[

1⁄2 tsp

]
baking soda
1⁄4 tsp
[

1⁄4 tsp

]
baking powder
150g
[

150g

]
white chocolate, cut into chunks or chocolate chips (check for nut free if required)
Directions
Preheat oven: 180°C, 350°F, Gas 4
Line baking sheets with non-stick baking paper.
Put fat and both sugars into a large mixing bowl and cream together, beating well until smooth.
Slowly beat in the egg and vanilla extract. The mix may start to curdle a bit but this will disappear when the dry ingredients are added.
Add the sifted flour, cocoa powder, baking soda and baking powder to the mix and then stir well to fully combine all of the ingredients. Finally add the chocolate pieces and stir in gently.
Place generous teaspoonfuls of mixture onto the prepared baking trays. Ensure that the mixture is spaced out well as the cookies will spread during baking.
Bake for 12-14 minutes, until firm to the touch.
Remove cookies from oven and allow to cool for a few minutes then transfer to a wire baking rack to fully cool before storing in an airtight container.
These cookies can be eaten slightly warm or cold. They keep well for 2-3 days in an airtight container.