Flapjack recipe
"The portable way to eat oats for that slow release energy boost throughout the day"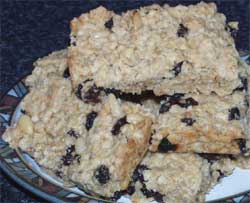 Allergy Information
| | |
| --- | --- |
| Wheat-Free | |
| Gluten-Free | |
| Nut-Free | |
| Dairy-Free | |
| Sugar-Free | |
| Vegetarian | |
| Vegan | |
These flapjacks make a really good lunch pack item or tasty mid-morning snack, the low GI of the oats will help you to keep blood sugar levels stable while still providing energy and goodness throughout the day.
Important note: even using certified gluten free oats it may not be suitable for all celiac disease sufferers, as some are very sensitive to avenin contained in the oats, see our oats FAQ for more info.
Ingredients
150g
[

150g

]
low fat spread, margarine or butter
90ml
[

90ml

]
rice syrup (substitute: Tate & Lyle golden syrup, coconut nectar, or agave nectar)
Please note this recipe contains nuts
Directions
Preheat oven: 180°C, 350°F, Gas 4
Line a shallow baking tray 15cm x 25cm (6" x 10") with baking parchment.
Gently melt the fat and the rice syrup together.
Stir in the oats, flour, pine nuts and raisins, until well mixed. If the mixture is too wet then add more oats, a tablespoon at a time. However make sure the mixture does not become dry or it will not stick together when cooked.
Tip mixture into the baking tray and press down firmly, ensuring the mix is well compacted.
Bake in the centre of the oven for 20-25 minutes.
As soon as the flapjacks are removed from the oven, cut into squares then allow to cool completely before removing from tray.
You can substitute other dried fruits for the raisins, i.e. dried cranberries, cherries or apricots, and chocolate chips also make a nice change.
Why not try our other flapjack recipes:
Apricot flapjack
Date flapjack