Apricot flapjack recipe
"Tangy apricots in an oat sandwich, makes a great portable snack for energy boosting throughout the day"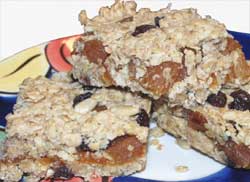 Allergy Information
| | |
| --- | --- |
| Wheat-Free | |
| Gluten-Free | |
| Nut-Free | |
| Dairy-Free | |
| Sugar-Free | |
| Vegetarian | |
| Vegan | |
Flapjacks are a great energy boosting snack, easy to wrap up and take biking, hiking or just for a mid-afternoon pick-me-up. Certified gluten free oats could be used to make these gluten free if you suffer from celiac disease.
Important note: even using certified gluten free oats it may not be suitable for all celiacs; some celiacs are very sensitive to avenin contained in the oats, see our oats FAQ for more info.
Ingredients
150g
[

150g

]
low fat spread, margarine or butter
90ml
[

90ml

]
rice syrup (substitute: Tate & Lyle golden syrup)
400g
[

400g

]
fresh apricots (dried can be substituted and you will only need 250g, but you should soak them before use)
Please note this recipe contains pine nuts
Directions
Preheat oven: 180°C, 350°F, Gas 4
Line a shallow baking tray 15cm x 25cm (6" x 10") with baking parchment.
Gently melt the fat and the rice syrup together.
Stir in the oats, flour, pine nuts and raisins, until well mixed. If the mixture is too wet then add more oats, a tablespoon at a time. However Make sure the mixture does not become dry or it will not stick together when cooked.
Remove the stones from the fresh apricots and chop.
Tip half of the oat mixture into the baking tray and press down firmly, ensuring the mix is well compacted.
Spread the apricots on top, then finish off with the rest of the oat mixture, to make an 'apricot sandwich'. Press down firmly, again ensuring the mix is well compacted, but not squashed if using fresh apricots.
Bake in the centre of the oven for 25 minutes.
As soon as the flapjacks are removed from the oven, cut into squares then allow to cool completely before removing from tray.
If you are using dried apricots you will need to soak them for about 30 minutes in a small amount of orange juice to soften them. You can substitute other dried fruits for the raisins, i.e. dried cranberries or cherries.
Why not try our other flapjack recipes:
Date flapjack
Flapjack