Date flapjack recipe
"Made with fresh sticky Medjool dates and oats—a great pick-me-up energy snack"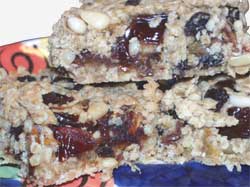 Allergy Information
| | |
| --- | --- |
| Wheat-Free | |
| Gluten-Free | |
| Nut-Free | |
| Dairy-Free | |
| Sugar-Free | |
| Vegetarian | |
| Vegan | |
I really like this date flapjack recipe because it's tasty, filling, and I think quite healthy. By using fresh dates you will get a lovely moist, sticky filling to the flapjack—dried dates won't work, however, if you can only get dried dates soak them in water for a few hours to hydrate them before using.
It also makes a really good packed lunch item, or a tasty mid-morning snack.
Important note: even using certified gluten free oats it may not be suitable for all celiac disease sufferers, as some are very sensitive to avenin contained in the oats, see our oats FAQ for more info.
Ingredients
150g
[

150g

]
low fat spread, margarine or butter
100ml
[

100ml

]
rice syrup (substitute: Tate & Lyle golden syrup, coconut nectar, or agave nectar)
400g
[

400g

]
fresh Medjool dates
Please note this recipe contains nuts
Directions
Preheat oven: 180°C, 350°F, Gas 4
Line a shallow baking tray approx. 15cm x 25cm (6" x 10") with baking parchment.
Remove the stones from the dates and chop, put aside and prepare the flapjack mixture.
Gently melt the fat and the rice syrup together.
Stir in the oats, flour, pine nuts and raisins and mix well.
Tip half of the oat mixture into the baking tray and press down firmly, ensuring the mix is well compacted.
Spread the dates on top, then finish off with the rest of the oat mixture, to make a 'date sandwich'. Press down firmly to ensure the mix is well compacted.
Bake in the centre of the oven for 25 minutes.
As soon as the flapjack is removed from the oven cut immediately into portions, then allow to cool completely before removing from tray.
You can substitute other dried fruits for the raisins, i.e. dried cranberries, cherries or apricots, and chocolate chips also make a nice change.
If packing up for lunch, snacks, or picnics I suggest that you wrap it in waxed paper then seal into a parcel with plastic film or foil, this should keep it from breaking up or drying out. Alternatively put it into a hard snack box to keep it safe.
Why not try our other flapjack recipes:
Apricot flapjack
Flapjack