Ginger cake recipe
"Old fashioned tasting ginger cake, just like my Grandma used to make"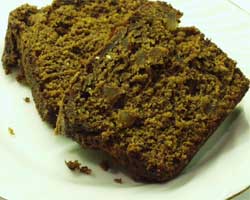 Allergy Information
| | |
| --- | --- |
| Wheat-Free | |
| Gluten-Free | |
| Nut-Free | |
| Dairy-Free | |
| Sugar-Free | |
| Vegetarian | |
| Vegan | |
Cook time:

1 hr 5 mins

Yield:

1 loaf
On a cold, winter's day you can't beat a slice of warming ginger cake. With the pieces of real ginger, every mouthful has an extra special zing.
You could even serve this for dessert with hot custard, or vanilla ice cream, and extra chopped glacé ginger with some of the syrup drizzled over.
Ingredients
115g
[

115g

]
light soft brown sugar
75g
[

75g

]
rice syrup (substitute: golden syrup)
75g
[

75g

]
molasses (substitute: black treacle)
7 tbsp
[

7 tbsp

]
semi-skimmed milk
1 large
[

1 large

]
egg, beaten
175g
[

175g

]
all purpose wheat free flour (we used Stamp Collection)
50g
[

50g

]
gram flour (chick pea flour)
3 tsp
[

3 tsp

]
ground ginger
1 tsp
[

1 tsp

]
ground cinnamon
1 1⁄2 tsp
[

1 1⁄2 tsp

]
baking powder
75g
[

75g

]
glacé ginger or stem ginger in syrup, drained and finely chopped
Directions
Preheat oven: 160°C, 325°F, Gas 3
Line a 1lb loaf tin with baking parchment.
In a small saucepan put the sugar, margarine, rice syrup and molasses and heat gently, stirring continuously until all the ingredients have melted and mixed together well. Remove the saucepan from the heat and set aside to cool slightly.
Mix the flours, salt, ground ginger, cinnamon and baking powder in a large bowl. Add the glacé ginger and coat in the dry ingredients to stop it sticking together in clumps.
Beat the egg and milk together, then add to the now slightly cooled syrupy mix, beating to ensure that it doesn't go lumpy.
Add the wet ingredients to the dry ingredients and beat well until all the ingredients are well blended.
Pour the mixture into the loaf tin and bake for 60-70 minutes until it is firm to the touch, and a toothpick inserted in the centre comes out clean.
Leave to cool in the tin for at least 15 minutes.