Autumn apple cake recipe
"The perfect way to celebrate Nature's wonderful apples and nuts, makes a great afternoon tea treat"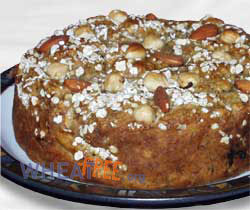 Allergy Information
| | |
| --- | --- |
| Wheat-Free | |
| Gluten-Free | |
| Nut-Free | |
| Dairy-Free | |
| Sugar-Free | |
| Vegetarian | |
| Vegan | |
Preparation time:

20 mins

Cook time:

45 mins

Total time:

1 hr 5 mins

Yield:

serves 8-10
I love to celebrate the Fall with this cake bursting with apples, nuts, and warm spice flavour. It's good any time of the year, but in the Fall it just seems so perfect to eat on those afternoons when the golden leaves are falling from the trees. Serve with hot chocolate, coffee, or a cup of green tea for a tasty afternoon treat.
Important note: even using certified gluten free oats it may not be suitable for all celiacs; some celiacs are very sensitive to avenin contained in the oats, see our oats FAQ for more info.
Ingredients
110g
[

110g

]
all purpose wheat free flour (we used Stamp Collection)
25g
[

25g

]
unrefined sugar
25g
[

25g

]
hazelnuts, whole
25g
[

25g

]
almonds, 50% chopped, 50% left whole
1
[

1

]
apple, cored and chopped roughly
1⁄2 tsp
[

1⁄2 tsp

]
bicarbonate of soda
1 tsp
[

1 tsp

]
mixed spice (substitute: cinnamon)
25g
[

25g

]
butter, margarine, or low fat spread, melted
100g
[

100g

]
greek yogurt or set natural yogurt
60ml
[

60ml

]
milk (substitute: almond, rice, soy etc)
2 tbsp
[

2 tbsp

]
honey (substitute: agave syrup)
1 small
[

1 small

]
egg, beaten
Please note this recipe contains nuts
Directions
Preheat oven: 200°C, 400°F, Gas 6
Line a 16 cm (6 1/2") cake tin with baking parchment.
In a large mixing bowl place the flour, oats, sugar, raisins, half the hazelnuts, the chopped almonds, apple, baking powder, bicarbonate of soda, xanthan gum, mixed spice and salt. Stir to mix.
In a separate bowl mix together the melted butter, egg, milk, honey and yogurt. Then pour onto the dry ingredients. Gently mix the wet and dry ingredients together, leaving the mix lumpy but with no dry patches.
Drop the mixture into the cake tin in spoonfuls, leaving it very uneven on the surface. (The mix will spread to fill the gaps during cooking). Scatter the remaining hazelnuts and whole almonds over the top, and then sprinkle 1½ tsp of oats on the top.
Cook on the centre shelf of the oven for 45 minutes. The cake should be covered loosely with foil after the first 25 minutes to stop the nuts burning. To check whether the cake is cooked completely, insert a toothpick into the centre of the cake, if it comes out clean the cake is cooked.
Leave the cake to cool in its tin for about 15 minutes before turning out onto a wire rack, removing the baking parchment and leaving to cool completely.
This cake can be eaten slightly warm if desired, however it will be fairly fragile until it has cooled and set. Serve with a generous helping of custard, creme fraiche, or cream as a dessert.