Sweet & sour crispy king prawns recipe
"If you're missing Chinese takeaway then this recipe will help those cravings, the tempura style batter is amazing"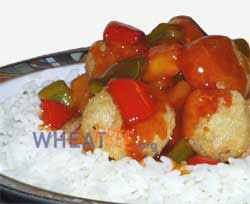 Allergy Information
| | |
| --- | --- |
| Wheat-Free | |
| Gluten-Free | |
| Nut-Free | |
| Dairy-Free | |
| Sugar-Free | |
| Vegetarian | |
| Vegan | |
Preparation time:

15 mins

Cook time:

20 mins

Total time:

35 mins

Yield:

serves 2-3
If you miss Chinese takeaway then why not try to recreate it yourself. This recipe is really good, the tempura style batter is light and crispy. With a wheat and gluten free sweet & sour sauce, gluten free prawn crackers and rice it's a great homemade Chinese takeaway style meal.
This recipe takes me back to mature student days, before having to go wheat free I'd buy sweet & sour prawns, rice and prawn crackers every Saturday night from the local Chinese takeaway, just 4 minutes walk from my house (which was no accident when looking for location, location, location). I'd buy enough so that there were leftovers for Sunday breakfast, then eat them while studying. There are a lot of books with sweet & sour sauce smeared on the pages...
To make this recipe nut free just substitute the nut oil with any other flavourless oil.
Ingredients (Measures: Metric | US)
30
[

30

]
king prawns/large shrimp, cooked, peeled & deveined
1⁄2
[

1⁄2

]
red pepper, chopped
1⁄2
[

1⁄2

]
green pepper, chopped
4
[

4

]
slices fresh pineapple, chopped (canned works okay too)
250g
[

1 cup

]
gluten free sweet & sour sauce
groundnut oil, for deep frying (substitute: any other flavourless oil)
boiled rice (brown, white, basmati, wild - your choice)
Please note this recipe as written contains nut oil. If you want to avoid using this then simply substitute with another flavourless oil suitable for deep frying.
Directions
Dry prawns on kitchen paper.
Mix gluten free flour, cornflour and baking powder with enough water to make a fairly thick batter that will coat the prawns and not slide off.
Heat the oil until a drop of batter will sizzle and brown fairly quickly.
Carefully drop 6-7 batter coated prawns into the oil and allow to cook until batter has puffed up and turned golden brown, takes approximately 1½-2 minutes.
Remove cooked crispy prawns with a slotted metal spoon and place on a plate lined with several sheets of kitchen paper to drain. Keep warm in a moderate oven until all prawns are fried.
Place sweet & sour sauce, peppers and pineapple in a saucepan and gently heat.
Put a portion of rice on a plate, add the cooked crispy king prawns, and spoon the sweet & sour mixture over the prawns.