Cheesey potato waffles recipe
"Make these waffles for the kids, they look like they're bad for you (so the the kid's will automatically love 'em), but they're actually reasonably healthy and very tasty"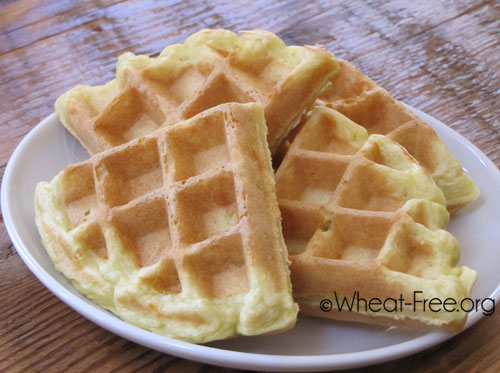 Allergy Information
| | |
| --- | --- |
| Wheat-Free | |
| Gluten-Free | |
| Nut-Free | |
| Dairy-Free | |
| Sugar-Free | |
| Vegetarian | |
| Vegan | |
Preparation time:

5 mins

Cook time:

10 mins

Total time:

15 mins

Yield:

makes 10-12 waffle segments
This gluten free waffle recipe was adapted from Feed Zone Portables: A Cookbook of On-the-Go Food for Athletes (The Feed Zone) .
Their recipe was a little too eggy for my taste, so I reduced the eggs and salt, and increased the milk and parmesan, plus added a dash of chipotle chilli powder to spice things up a little..
I didn't eat all the waffles when they were freshly cooked, leaving some to cool on a wire cooling rack. They taste pretty good cold too, and are perfect for sandwiching together with a filling and taking in a bagged lunch, or on a bike ride or hike for mid-exercise refuelling.
They also reheat perfectly; grill until hot all the way through and they taste as good as when they were fresh. They also reheat okay in the microwave, but of course do lose their crispness.
You will need a waffle maker for this recipe.
Ingredients (Measures: Metric | US)
45 g
[

¾ cup

]
potato flakes
45 g
[

¼ cup

]
potato flour
3 tbsp
[

3 tbsp

]
parmesan, grated (or dairy free alternative)
pinch
[

pinch

]
chipotle chilli peper
280 ml
[

1 cup + 2 tbsp

]
milk (or dairy free alternative)
3 large
[

3 large

]
eggs, beaten
Directions
Follow instructions for your particular waffle maker. Switch the waffle maker on to heat up, lightly oiled if required.
Put potato flakes, potato and rice flours, cheese, salt and baking powder into a bowl and mix.
Heat the almond milk for 90 seconds in the microwave then add to the dry ingredients.
Add the eggs and mix everything until it is well combined.
Spoon enough batter into the waffle maker to almost fill the waffle shapes, each waffle shape (depending on the waffle maker) will require different quantities, so let the shape/size dictate how much waffle mixture to use. Do not overfill.
Cook the waffles until either the steam starts to slow down, or the waffle feels crisp on the outside. Our waffles took 8 minutes.
Remove cooked waffle from waffle maker, allow waffle maker to reach optimum heat again, spoon in more batter and repeat cooking steps.
I used the Morning Baker(TM) Belgian Waffle Baker to make these waffles, read the review of how it performed.
Waffles not eaten immediately can be cooled on a wire baking rack, then stored in the fridge for reheating or eating cold later.
1 waffle = 80 cals (when recipe yield is 10 waffles)