Blueberry pancakes recipe
"Makes breakfast extra special, and healthy too"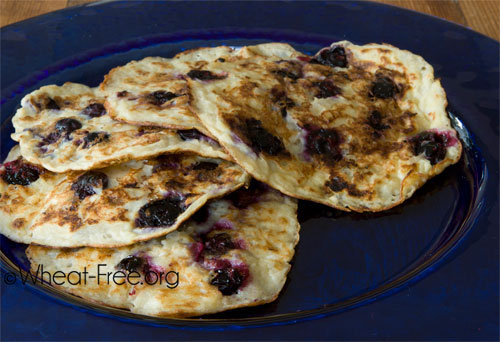 Allergy Information
| | |
| --- | --- |
| Wheat-Free | |
| Gluten-Free | |
| Nut-Free | |
| Dairy-Free | |
| Sugar-Free | |
| Vegetarian | |
| Vegan | |
We love blueberry pancakes for breakfast. It's one of those decadent Sunday morning breakfast/brunch treats that makes weekends just a bit more special.
Super easy to make you'll want to eat these often, make lots as they're going to be quickly devoured.
Beckwood Pond Vermont Bed and Breakfast Inn in Vermont contacted us when they had a wheat intolerant guest and needed something to serve for breakfast. We suggested these, and not only did their wheat intolerant guest fall in love with them, but many other wheat eating guests also enjoyed them so much they asked for the recipe.
Ingredients (Measures: Metric | US)
100g
[

2⁄3 cup

]
gluten free flour
1 tsp
[

1 tsp

]
baking powder
15g
[

1 tbsp

]
butter, margarine or low-fat spread
500ml
[

2 cups

]
milk (substitute: any non-dairy alternative)
1
[

1

]
firm banana, chopped fairly small
150g
[

1 cup

]
blueberries, fresh or defrosted and drained from frozen
Directions
Melt the butter then whisk it into the egg and milk.
In a separate bowl mix the flour and baking powder then stir in the milk mixture and mix until there are no dry ingredients visible, the mixture should be a bit lumpy so do not beat.
Stir in the banana. Leave the batter mix to stand in the refrigerator for 30 minutes.
Heat a non-stick pan and very lightly oil, spoon enough batter into the pan to thinly cover approximately 12cm (5") diameter, making sure you get an even spread of banana. Sprinkle some blueberries on top.
Cook the pancake for 2-3 minutes, the batter bubbles on the top of the pancake will start to break, then turn over for approximately 1-1½ minutes. Put on a plate and keep warm in a low temperature oven until they are all made. Separate each pancake in the oven with baking parchment so that they don't stick together.
Repeat steps 4 and 5 until all the mixture is used up
then serve immediately.
Serve warm with whipped cream, greek yogurt, vanilla ice cream, maple syrup, and more blueberries.