Does anyone make gluten free vodka?
If you're a vodka fan then you'll be pleased to know that there are gluten free vodkas on the market.
Devotion Spirits Inc.
This vodka is gluten free and also sugar free.
Made by Devotion Spirits Inc in Middleton, Wisconsin, they use a state-of-the-art distillery to produce this 6x distilled, multi-filtered vodka, using 100% high grade USA corn.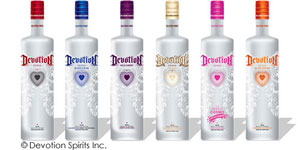 Available in 6 flavours: Regular, Black & Blue, Blood Orange, Coconut, Cosmo, Wild Cherry
For more information: Devotion Spirits Inc.

Stolichnaya

Another gluten free vodka made from corn and buckwheat is available from Stolichnaya.
For more information: The Stoli Gluten Free by Stolichnaya.
Last updated: 05/17/2016