Vegetable bean soup recipe
"Easy to make winter soup packed with veggies and vitamins, beans optional"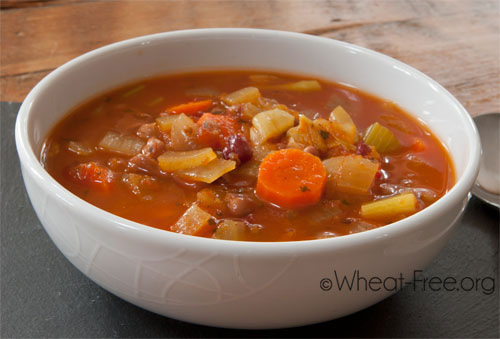 Allergy Information
| | |
| --- | --- |
| Wheat-Free | |
| Gluten-Free | |
| Nut-Free | |
| Dairy-Free | |
| Sugar-Free | |
| Vegetarian | |
| Vegan | |
Preparation time:

15 mins

Cook time:

40 mins

Total time:

55 mins

Yield:

serves 7+
This soup is very easy to make, and it's packed full of nutritious veggies, giving you a healthy dose of vitamin C to help ward off the winter ills. You can leave the beans out if you don't like or can't eat legumes.
You can also vary the vegetables, and the quantities. Other great vegetables that can be used include; parnsip, leek, mushrooms, sweet potato, potato, and green beans. Just root through the fridge and use whatever you have, however I would advise against using things like squash or zucchini as it will go quite soft during cooking, and mushy when reheated.
Ingredients (Measures: Metric | US)
2 tbsp
[

2 tbsp

]
olive oil
2 large
[

2 large

]
onions, chopped
4 cloves
[

4 cloves

]
garlic, minced
1
[

1

]
red pepper, de-seeded & chopped
1
[

1

]
green pepper, de-seeded & chopped
1
[

1

]
yellow pepper, de-seeded & chopped
4 large
[

4 large

]
carrots, peeled & chopped
1 bulb
[

1 bulb

]
anise (fennel), cored & chopped
1
[

1

]
celery head, chopped
800ml
[

3 1⁄4 cups

]
can chopped tomatoes, coarsely liquidised
1.5 litres
[

6 cups

]
vegetable stock (check wheat/gluten free)
400ml
[

14 fl.oz.

]
can mixed beans, drained and rinsed (we used Scarpone's Bean Medley because they are additive/EDTA free)
4 tsp (or to preferred taste)
[

4 tsp (or to preferred taste)

]
sambal oelek
2 tsp
[

2 tsp

]
dried oregano
2 tsp
[

2 tsp

]
dried cilantro
2 tsp
[

2 tsp

]
dried basil
freshly ground black pepper
Directions
Gently sauté the onion in the olive oil for 5 minutes until softened.
Add the minced garlic and cook for 1 minute.
Add the rest of the chopped vegetables and the herbs, but not the black pepper, and gently sauté for 5 minutes.
Add the liquidised tomatoes, vegetable stock and rinsed beans, bring to the boil then cover with a lid and reduce the heat.
Cook on a gentle heat for 25-30 minutes, stirring occasionally.
Remove from heat, season with freshly ground black pepper and serve immediately in warmed bowls.
Serve with hot crusty bagels or cheesey flat bread for a satisfying lunch. As an optional extra (though not for dairy free or vegan) sprinkle some freshly grated parmesan on top.
This soup also freezes really well, put single portions into freezer tubs and freeze, then you'll have some warming soup ready made for those cold, winter days.