Turkey meatloaf recipe
"Serve hot or cold, or even in slices of gluten free bread for a meatloaf sandwich"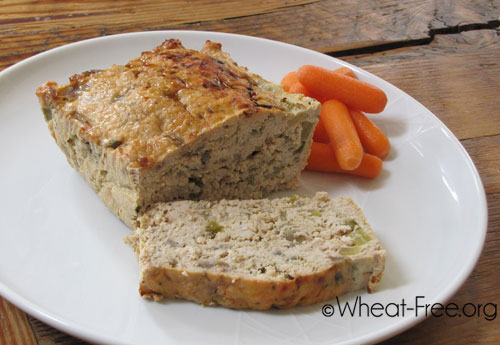 Allergy Information
| | |
| --- | --- |
| Wheat-Free | |
| Gluten-Free | |
| Nut-Free | |
| Dairy-Free | |
| Sugar-Free | |
| Vegetarian | |
| Vegan | |
Preparation time:

45 mins

Cook time:

1 hr 30 mins

Total time:

2 hrs 15 mins

Yield:

serves 4-8
This meatloaf recipe uses ground turkey, which makes a good alternative to the traditional ground beef meatloaf.
I also use a wheat/gluten free Worcestershire sauce which gives it a real taste kick. Not all Worcestershite sauces are gluten free, in fact I've only found one, Wizard's Organic Gluten Free Vegan Worcestershire Sauce. If you can't get it then simply leave it out of the recipe.
Ingredients (Measures: Metric | US)
900g
[

2lb

]
ground turkey breast meat
1 medium
[

1 medium

]
red onion, finely chopped
3 large
[

3 large

]
celery stalks, finely chopped
green bell pepper, 1/2 large
1 tbsp
[

1 tbsp

]
olive oil
2 cloves
[

2 cloves

]
garlic, minced
salt & freshly ground black pepper
60ml
[

¼ cup

]
tomato/pasta sauce (substitute: salsa)
2 tbsp
[

2 tbsp

]
chicken stock
1 large
[

1 large

]
egg, beaten
Directions
Preheat oven: 200°C, 400°F, Gas 6
Line a 2lb loaf tin with baking parchment.
Put the oil, onion, celery and bell pepper in a pan and sauté for a few minutes until slightly translucent looking, do not brown.
Add the garlic, thyme and seasoning, and continue to cook for 3 minutes stirring occasionally, do not brown. Turn off heat and set aside.
Put the ground turkey in a large bowl, add the tomato sauce, chicken stock, egg and Worcestershire sauce, mix well.
Add the cooked vegetables to the turkey and mix well to distribute the veggies evenly into the turkey.
Spoon turkey into the loaf tin and level the top, slightly compressing the mixture.
Bake in the oven for 90 minutes, or until the meatloaf is cooked all the way through to the centre, use a meat thermometer if necessary.
Remove from oven and leave to rest in loaf tin for 5 minutes before cutting.
Serve hot or cold.
Great hot or cold, you can pack this for a bagged lunch with some salad, or even put slices in the middle of some gluten free bread with some mango chutney to make a very tasty meatloaf sandwich.
This recipe was adapted from Paleo Comfort Foods: Homestyle Cooking for a Gluten-Free Kitchen by Julie Sullivan Mayfield & Charles Mayfield.