Vanilla Shortbread recipe
"Melt in the mouth shortbread cookies"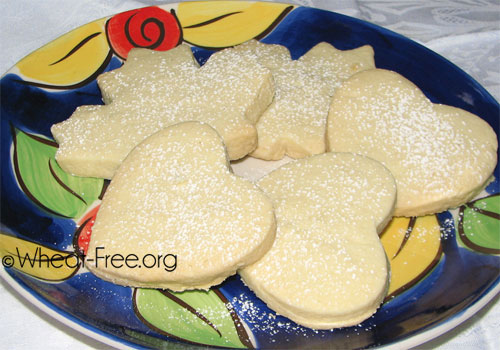 Allergy Information
| | |
| --- | --- |
| Wheat-Free | |
| Gluten-Free | |
| Nut-Free | |
| Dairy-Free | |
| Sugar-Free | |
| Vegetarian | |
| Vegan | |
Preparation time:

20 mins

Cook time:

20 mins

Total time:

40 mins

Yield:

makes approx 25-35 depending on cutter size
This really is a melt-in-the-mouth vanilla shortbread. It's the perfect teatime treat and they also work really for dipping into chocolate mousse as a decadent dessert.
Over the years I've found that these also make a very popular hostess gift at Christmas. A small basket of these shortbread cookies, decorated with a festive theme, will be sure to please most people. And don't forget Valentine's Day, use heart shaped cutters and after cooking dip in melted chocolate, or serve them with a chocolate mousse for dessert.
Ingredients (Measures: Metric | US)
200g
[

3⁄4 cup + 2tbsp

]
unsalted butter
125g
[

1⁄2 cup + 2tbsp

]
caster sugar
335g
[

2 cups + 2tbsp

]
gluten free flour (make sure it contains xanthan gum, if not add 2 tsp)
2 large
[

2 large

]
egg yolks
2 tsp
[

2 tsp

]
vanilla extract
optional - confectioner's/icing sugar for dusting after baking
optional - melted chocolate for dipping
Directions
Preheat oven: 180°C, 350°F, Gas 4
Mix the butter and sugar together until they are well combined.
Add the egg yolks and vanilla extract and mix well.
Add the gluten free flour in stages, mixing it into the other ingredients well before adding more gluten free flour. You will find that you will have to use your hands to incorporate the majority of the flour as the dough will become quite stiff.
Lightly flour a surface with gluten free flour to roll the shortbread dough out on. Roll out the dough to a depth of 5mm (approx. ¼").
Cut cookie shapes out of the dough and place on a baking sheet lined with baking parchment. Re-roll the trimmings so that you can make more cookies with the remaining dough.
Bake for 18-20 minutes until the edges of the shortbread are turning golden. Remove from the oven and leave for a few minutes on the baking tray, then transfer to a cooling rack.
When the shortbread is completely cold sift some icing sugar over the cookies for decoration, or for extra decadence dip into melted chocolate and allow to set before eating.
These shortbread biscuits can be stored in an airtight container for 4-5 days, however I find that they rarely make it past the second day before they are all eaten.