Spinach & polenta soufflé recipe
"Foolproof cheese soufflé that looks very impressive to serve, but is very easy to make and very tasty"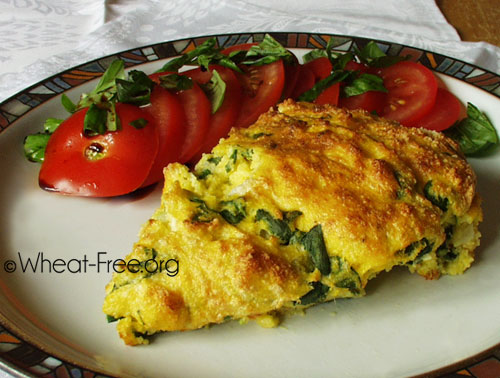 Allergy Information
| | |
| --- | --- |
| Wheat-Free | |
| Gluten-Free | |
| Nut-Free | |
| Dairy-Free | |
| Sugar-Free | |
| Vegetarian | |
| Vegan | |
Preparation time:

20 mins

Cook time:

25 mins

Total time:

45 mins

Yield:

serves 2-4
Too many people avoid using polenta because they think that it's boring and bland. Well the truth is, it is boring and bland on its own. The secret is to add other ingredients and flavours to make the most of its cheap, filling and easy to use properties.
I've added cheese and spinach to this soufflé, baked it in the oven, and served it with ripe flavourful tomatoes drizzled in olive oil, balsamic vinegar and fresh basil to make a really tasty meal. If you've never tried polenta then give this recipe a go, you'll be pleasantly surprised.
Ingredients
1⁄2
[

1⁄2

]
onion, finely chopped
400ml
[

400ml

]
semi-skimmed milk (cows, goat, almond (unflavoured), rice)
125g
[

125g

]
polenta grains (quick cook variety)
3 large
[

3 large

]
egg yolks
3 large
[

3 large

]
egg whites
175g
[

175g

]
spinach, coarsely chopped
75g
[

75g

]
cheese, grated (strong flavour is best)
freshly ground black pepper
Directions
Preheat oven: 200°C, 400°F, Gas 6
Lightly oil an ovenproof baking dish that has approximately 1.2 litres (2 pint) capacity.
Heat the olive oil in a large saucepan and gently cook the chopped onion until it is golden brown, making sure that it doesn't burn. Add the milk and water and bring to the boil.
While the fluid is coming to the boil put the egg whites into a large, clean bowl, and whisk them until they reach the soft peak stage. Put aside.
Pour the polenta grains into the boiling fluid in the saucepan, stirring continuously with a wooden spoon. Make sure that the polenta has completely mixed without any lumps visible (apart from the onion of course). Polenta will bubble volcanically so make sure that you protect your hands and forearms while mixing to avoid getting an unpleasant burn. Remove the saucepan from the heat.
Beat the egg yolks into the polenta mixture, then add the grated cheese, freshly ground pepper and chopped spinach.
Using a large metal spoon, fold the eggs whites into the polenta mixture taking care not to knock out the trapped air. It is best to add the egg whites in 3-4 lots to make it easier to fold in.
Spoon the mixture into the prepared baking dish and bake in the oven for 20-25 minutes. At the end of cooking the soufflé should be slightly puffed up and golden brown on top.
Remove from the oven and serve immediately with sliced tomatoes drizzled in olive oil and balsamic vinegar with some shredded basil leaves. This soufflé needs to be eaten hot.
This spinach & polenta soufflé makes a really tasty lunch, and you could serve it with a large salad or steamed vegetables for a tasty vegetarian dinner.