Spinach haddock recipe
"Fish, spinach and a rich cheese sauce... yum"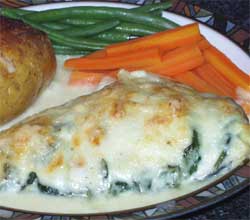 Allergy Information
| | |
| --- | --- |
| Wheat-Free | |
| Gluten-Free | |
| Nut-Free | |
| Dairy-Free | |
| Sugar-Free | |
| Vegetarian | |
| Vegan | |
Preparation time:

15 mins

Cook time:

30 mins

Total time:

45 mins

Yield:

serves 2
We're always being told that fish is good for us, so every opportunity to eat more fish should always be taken. The haddock fillets in this recipe are topped with spinach, then cooked in a delicious cheese sauce. If you don't like goats cheddar then mature cheddar can be used.
Ingredients (Measures: Metric | US)
spinach, as much as you want
1 tsp
[

1 tsp

]
gluten free mustard (English or Dijon)
75g
[

1 cup

]
goats cheddar, grated
freshly ground black pepper
Directions
Preheat oven: 210°C, 425°F, Gas 7
Wilt the spinach (2½ minutes in a bowl in the microwave is enough), then set aside.
Mix the cornflour with a small amount of milk to make a smooth paste, add the rest of the milk continuously stirring while heating. The sauce will thicken, do not allow to burn, when thickened add the mustard, pepper and 60g of the cheese.
Place the haddock fillets in a shallow ovenproof dish, cover each piece thickly in drained spinach, then spoon the cheese sauce over the top. Finally top with the rest of the cheese.
Bake in the centre of the oven for 30 minutes until the top is golden brown and bubbling.