Lemon ricotta cake recipe
"Another polenta based cake, this time with a very, very lemony flavour"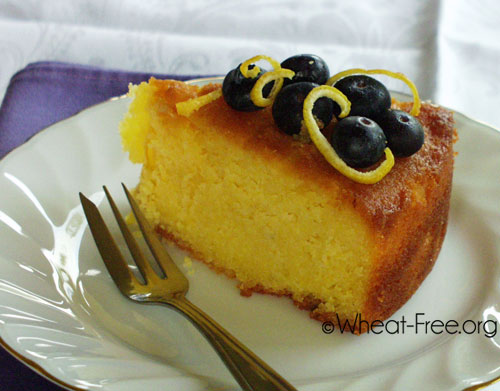 Allergy Information
| | |
| --- | --- |
| Wheat-Free | |
| Gluten-Free | |
| Nut-Free | |
| Dairy-Free | |
| Sugar-Free | |
| Vegetarian | |
| Vegan | |
Preparation time:

25 mins

Cook time:

1 hr 30 mins

Total time:

1 hr 55 mins

Yield:

serves 8-10
The first time I had this cake was at my mother-in-laws. She proudly brought out this cake she'd made for dessert and it was absolutely superb. The texture of the cake, even with the drizzled syrup is still firm like a Madeira Cake. And for lemon lovers, it's very, very lemony.
Ingredients
Cake:
3 medium
[

3 medium

]
eggs, beaten
250 g
[

250 g

]
ricotta cheese
150 g
[

150 g

]
ground almonds
100g g
[

100g g

]
polenta grains
1 tsp
[

1 tsp

]
baking powder
Syrup:
1
[

1

]
organic lemon, juice & pared zest (non-organic have waxed skins so don't use)
100g
[

100g

]
blueberries, for decoration (optional)
Please note this recipe contains nuts
Directions
Preheat oven: 170°C, 325°F, Gas 3
Line a 23cm (9") circular springform cake tin with non-stick baking paper.
In a large bowl beat the butter and sugar together until they are soft and creamy.
Add the beaten eggs, ricotta cheese, ground almonds, polenta grains, and baking powder and beat well until the mixture is thoroughly combined and smooth.
Pour into the prepared cake tin and bake for 1-1.5 hours. When cooked the top of the cake should be lightly browned and the centre of the cake firm to the touch, without being hard. A toothpick inserted into the centre of the cake should come out clean. When cooked, remove cake from oven and leave in tin.
While the cake is baking make the lemon syrup. Put the remaining sugar, the juice of 3 lemons and the water into a small saucepan. Bring to the boil and then simmer for approximately 5 minutes until the mixture has a syrupy texture. Stir in the strips of lemon zest, then remove from the heat and allow to cool.
Spoon ¾ of the lemon syrup over the baked cake while it is still in the tin, and then allow the cake to cool completely.
Once the cake is completely cool remove from tin and decorate the top with fresh blueberries. Pour the remaining syrup over the top of the cake and fruit.
This cake has a strong, tangy lemon flavour and a very moist but firm texture. It is ideal on its own for afternoon tea, or as a dessert after dinner. For added luxury why not serve with freshly whipped cream or vanilla ice cream.