Mocha chocolate chip cookies recipe
"Quick chocolate chip cookie recipe for those "need a cookie" moments"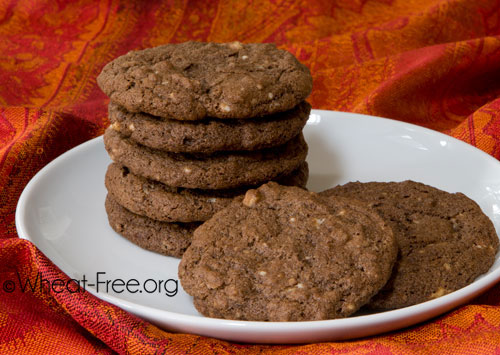 Allergy Information
| | |
| --- | --- |
| Wheat-Free | |
| Gluten-Free | |
| Nut-Free | |
| Dairy-Free | |
| Sugar-Free | |
| Vegetarian | |
| Vegan | |
Preparation time:

10 mins

Cook time:

14 mins

Total time:

24 mins

Yield:

makes 24
These chocolate chip cookies are very easy and quick to make, in less than 30 minutes you'll have trays of wheat & gluten free cookies fresh from the oven.
Irresistible while still warm, and crunchy when cooled, these cookies are great with a latte, green tea, glass of milk, or just grab and go.
Ingredients (Measures: Metric | US)
115g
[

1⁄2 cup

]
butter, margarine or low-fat spread
50g
[

1⁄4 cup

]
sugar, superfine/castor
75g
[

1⁄3 cup

]
brown sugar
1 medium
[

1 medium

]
egg, beaten
1⁄2 tsp
[

1⁄2 tsp

]
vanilla extract
2 tbsp
[

2 tbsp

]
cacao powder (substitute: unsweetened cocoa powder)
2 tsp
[

2 tsp

]
instant coffee granules
1⁄2 tsp
[

1⁄2 tsp

]
baking soda
150g
[

2⁄3 cup

]
white chocolate, cut into chunks or chocolate chips (check for nut free if required)
Directions
Preheat oven: 180°C, 350°F, Gas 4
Line baking sheets with non-stick baking paper.
Put fat and sugars into a large mixing bowl and cream together, beating well until smooth.
Slowly beat in the egg and vanilla extract. The mix may start to curdle a bit but this will disappear when the dry ingredients are added.
Add the sifted flours, cacao powder, coffee granules, baking soda and baking powder to the mix and then stir well to fully combine all of the ingredients. Finally add the chocolate chips and stir in gently.
Place tablespoonfuls of mixture onto the prepared baking trays. Ensure that the mixture is spaced out well as the cookies will spread during baking.
Bake for 14-16 minutes, until just firm to the touch.
Remove cookies from oven and allow to cool on baking tray for a few minutes, then transfer to a wire baking rack to fully cool before storing in an airtight container.
These cookies can be eaten slightly warm or cold. They keep well for 2-3 days in an airtight container.