Flourless chocolate cake recipe
"Rich moist chocolate cake that also works well for dessert"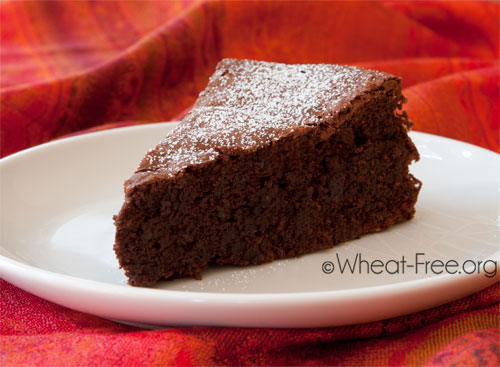 Allergy Information
| | |
| --- | --- |
| Wheat-Free | |
| Gluten-Free | |
| Nut-Free | |
| Dairy-Free | |
| Sugar-Free | |
| Vegetarian | |
| Vegan | |
Preparation time:

25 mins

Cook time:

45 mins

Total time:

1 hr 10 mins

Yield:

serves 12
This flourless chocolate cake doesn't contain too many ingredients so it's fairly quick and easy to produce a tasty treat. It's also really good when eaten still slightly warm—vanilla ice cream complements it perfectly.
Ingredients (Measures: Metric | US)
200g
[

7 x 1oz squares

]
72% cocoa (dark) chocolate, broken into pieces
150g
[

2⁄3 cup

]
butter, low fat spread or margarine
5 medium
[

5 medium

]
eggs, separated
150g
[

2⁄3 cup

]
golden caster/fine sugar
3 tbsp
[

3 tbsp

]
strong coffee, instant or brewed
100g
[

1 cup less 2 tbsp

]
ground almonds
2 tbsp
[

2 tbsp

]
raw cacao, (substitute: unsweetened cocoa powder)
1 tsp
[

1 tsp

]
baking powder
powdered/icing sugar for dusting top of cake
Please note this recipe contains nuts
Directions
Preheat oven: 190°C, 375°F, Gas 5
Line a 23cm (9") circular springform cake tin with non-stick baking paper.
Put the chocolate pieces and butter into a saucepan and melt over a gentle heat until completely melted and well combined.
Beat the egg whites until they are stiff, when you can tip the bowl on its side and the beaten egg whites don't move you know you've beaten it enough. Then add half of the sugar (75g or 1/3 cup) and beat together.
Add the other half of the sugar (75g or 1/3 cup) to the egg yolks and beat together until the mix is creamy and thicker.
Add the egg yolk mix and the coffee to the melted chocolate, gently stir the ingredients together until well combined.
Mix the ground almonds, cocoa powder, and baking powder together thoroughly, then slowly add this mix to the chocolate mix. Make sure that both mixes are well combined, but do not beat the ingredients together.
Gently fold the beaten egg whites into the mixture, ensuring that the air beaten into the egg whites is not lost.
Pour the mixture into the baking tin and bake for 40-45 minutes. To check that the cake is cooked properly insert a toothpick into the centre of the cake, if it comes out clean, or barely moist, then the cake is cooked.
Leave the cake in the baking tin for at least 30 minutes to cool, then turn out to cool completely on a wire cooling rack.
Before serving, dust with sieved powdered sugar.
Typical nutrition per slice (1/12): 303 calories, 23g total fat, 7g saturated fat, 0g trans fat, 24g carbohydrate, 1g fibre, 17g sugars, 6g protein, 147mg sodium
This cake is slightly moist in the centre with a firmer crust on the outside, which gives a wonderful combination of textures. It's very rich and chocolatey and I like to serve it as a cake or as dessert with a generous helping of vanilla ice cream or whipped cream. You could also add a fruit pureé, I've tried it with apricot pureé and the flavours work well together.
This cake also freezes well, either cut into slices and individually wrap in parchment or wax paper, or freeze whole in an airtight box wrapped in parchment or wax paper.