Lemon ginger cheesecake recipe
"Wheat & gluten free Lemon Ginger Cheesecake recipe"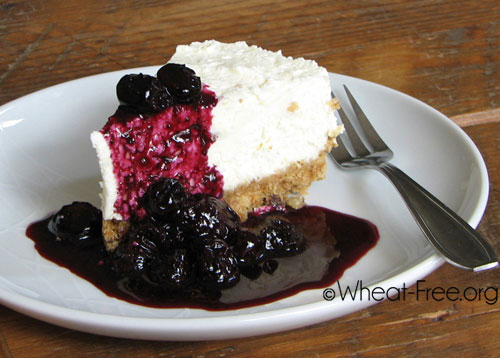 Allergy Information
| | |
| --- | --- |
| Wheat-Free | |
| Gluten-Free | |
| Nut-Free | |
| Dairy-Free | |
| Sugar-Free | |
| Vegetarian | |
| Vegan | |
I love cheesecake, and this cheesecake combines the richness of a traditional cheesecake with tangy lemon and spicy ginger to make a very refreshing tasting dessert.
I topped it with homemade blueberry syrup, but you could also ring the changes with redcurrants or raspberries, or finely mince some preserved ginger with a couple of tablespoons of the preserving syrup and drizzle over the top of the cheesecake.
Ingredients
Cheesecake
200 g
[

200 g

]
gluten free ginger biscuits (check for nut free if required)
75 g
[

75 g

]
butter or margarine, melted (butter preferred for the richer taste)
small amount of butter or margarine for greasing tin
1 tsp
[

1 tsp

]
ground ginger
2 whole
[

2 whole

]
organic lemon rinds, finely grated (non-organic have waxed skins)
2 whole
[

2 whole

]
lemons, juice
4 tsp
[

4 tsp

]
vegetarian gelatine (we used Agar flakes)
475 g
[

475 g

]
cream cheese (we used Philadelphia Lite)
250 g
[

250 g

]
mascarpone cheese
300 ml
[

300 ml

]
natural yogurt
6 pieces
[

6 pieces

]
stem ginger, drained and chopped
Topping
200 g
[

200 g

]
blueberries
1 tbsp
[

1 tbsp

]
caster sugar
Directions
Grease a 23cm (9") spring release baking tin with butter or line with baking parchment.
Put the biscuits in a plastic bag and crush with a rolling pin. Put into a bowl and pour the melted butter over, add the ground ginger, mix well together. Press firmly into the base of the prepared tin.
Put the lemon rind and juice in a bowl and sprinkle the vegetarian gelatine over.
Beat the cream cheese, mascarpone, yogurt and sugar together.
Stand the bowl containing the lemon and gelatine over a simmering pan of water until it looks all dissolved, remove bowl from over pan. Gradually pour the cheese mixture over the lemon gelatine and beat until the mixture is smooth.
Stir in the chopped stem ginger and then pour onto the prepared biscuit base. Chill for a least 3 hours.
Put the blueberries, sugar and water in a small saucepan and heat gently. When the sugar has melted and the water is hot the blueberries will start to turn into more of a jam type texture in a syrup. Remove from the heat and allow to cool.
Just before serving remove the spring form tin and drizzle the blueberry syrup over the top or simply serve it in a jug and let people pour it over their portions themselves.
This is a very rich tasting cheesecake, but because we used lite cream cheese we don't feel too bad about indulging.