Lemon curd tart recipe
"Luscious lemon tart that is WF, GF, dairy free, and sugar free"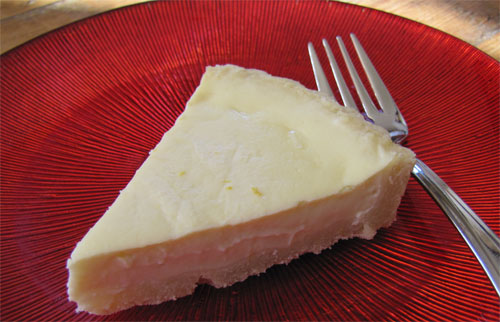 Allergy Information
| | |
| --- | --- |
| Wheat-Free | |
| Gluten-Free | |
| Nut-Free | |
| Dairy-Free | |
| Sugar-Free | |
| Vegetarian | |
| Vegan | |
Preparation time:

20 mins

Cook time:

40 mins

Total time:

1 hr

Yield:

serves 8-10
Desserts don't have to be sweet, and this lemon curd tart proves that you can have a sugar free dessert that tastes great without being sour.
I created this sugar free lemon curd tart because Mr Wheat-Free.org can't eat any sugars post-cancer, so he drools when the wheat-free.org kitchen is making desserts, cakes, cookies etc, but he can't try them, so I wanted him to have an opportunity to do the occasional taste test. He also loves this sugar free Key Lime Pie recipe, another WF/GF/dairy free/sugar free sweet treat.
I'm certain that you will love this lemon curd tart as much as we do. Serve it on its own, or with a sugar free ice cream (I use So Delicious Dairy Free No Sugar Added Vanilla Bean Ice Cream), it's great either way.
Ingredients (Measures: Metric | US)
Sweet pastry:
100 g
[

1⁄3 cup + 1 1⁄2 tbsp

]
non-dairy butter or margarine, plus extra to butter the tart tin (we used Becel Vegan soft margarine)
1 tbsp
[

1 tbsp

]
water, plus extra if pastry is too dry
1
[

1

]
single serve packet Stevia
Filling:
250ml
[

1 cup

]
coconut milk, canned, unsweetened, full fat not lite
125ml
[

1⁄2 cup

]
lemon juice
3 large
[

3 large

]
egg yolks, beaten
1 whole
[

1 whole

]
organic lemon zest (non-organic lemons have waxed skins)
3
[

3

]
single serve packets Stevia
Directions
Preheat oven for baking pastry shell: 200°C, 400°F, gas 6
Reduced temperature for baking filling: 180°C, 350°F, gas 4
Lightly butter and dust with white rice flour a 25cm (10") fluted tart tin with a removable base.
Into a large mixing bowl put the white rice and gluten free flours, non-dairy margarine and stevia. Mix together until it resembles large breadcrumbs. Add the egg yolk and water, and knead into a smooth ball of pastry dough. If the pastry appears too dry and crumbly then sprinkle with a little more water until it makes a smooth ball. Wrap and chill in the fridge for 30 minutes.
After the pastry has chilled, roll it out on a lightly white rice floured surface to a size large enough to completely line the tart tin including the sides. You may find it too delicate to lift in one piece and have to patch it together in the tart tin. Gently push the pastry into the flutes, and trim the top edge to neaten the pastry.
Bake the pastry shell for 15 minutes.
While the pastry shell is baking make the filling. Put the coconut milk, lemon juice, egg yolks, lemon zest and stevia in a bowl and beat together until well mixed.
Remove 1 tbsp of the lemon mix and add to the cornstarch to fluidise it. Make sure that it is fully mixed, then add this back into the lemon mixture and beat thoroughly to ensure it is well combined.
When the pastry shell is baked, place it on a large baking tray, and reduce the oven temperature to 350°F. The tray needs to be large enough to stand the tart tin on it with a good clearance all around the tart tin, the reason for this will become obvious when you pour the filling into the pastry shell.
Reserve 80ml (1/3 cup) of the lemon mixture and pour the rest into a small saucepan.
Gently heat the lemon mixture, continuously stirring, until it just starts to thicken, then immediately remove from the heat and pour into the pastry shell. Smooth the filling, then pour the reserved lemon mixture over the top. This will give the top a nice glazed look when it is finished cooking, and also avoid a thick skin.
Very carefully transfer the baking tray with filled pastry shell into the centre of the oven. If you're not careful the lemon mixture will slop over the sides, hence the reason for putting it on a large baking tray.
Bake for 20-25 minutes, the top should be set, but may still be a little wobbly. Remove from the oven, it will set completely as it cools.
Leave to cool for at least 90 minutes before removing from the tin, then refrigerate. If you can refrigerate it while still in the tin so much the better, but allow it the 90 minutes breathing time at room temperature first.
Serve chilled.
Typical nutrition per 1/8 slice: 282 calories, 18g total fat, 6g saturated fat, 0g trans fat, 22g carbohydrate, 1g fibre, 1g sugars, 4g protein, 85mg sodium