Turkey chilli recipe
"Try ground turkey in your next chilli, it makes a lean health conscious alternative to traditional versions"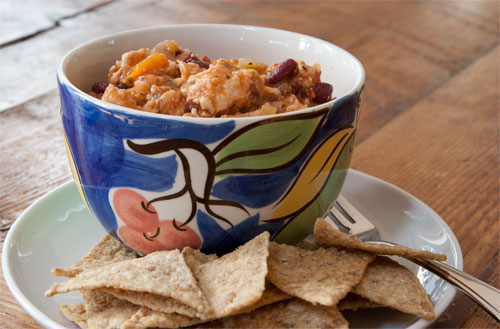 Allergy Information
| | |
| --- | --- |
| Wheat-Free | |
| Gluten-Free | |
| Nut-Free | |
| Dairy-Free | |
| Sugar-Free | |
| Vegetarian | |
| Vegan | |
Preparation time:

15 mins

Cook time:

35 mins

Total time:

50 mins

Yield:

serves 4-6
Chilli is one of those great winter comfort foods. Traditionally it's made with ground beef, but why not try ground turkey for a change. Turkey is a very lean meat, which makes it a great favourite for the health conscious.
I like a piping hot bowl of turkey chilli for lunch, paired with some tortilla chips, to fuel me through an activity packed afternoon.
Ingredients (Measures: Metric | US)
500g
[

approx. 1lb

]
lean ground turkey, check it has no added fillers
1 tbsp
[

1 tbsp

]
olive oil
1 clove
[

1 clove

]
garlic, finely chopped
125g
[

1⁄2 cup

]
crushed tomatoes (if you don't have canned just blitz chopped or whole tomatoes with a blender)
400g can
[

1 1⁄2 cups

]
red kidney beans (drained & rinsed)
375ml
[

1 1⁄2 cups

]
chicken stock (check for wheat/gluten free)
2 medium
[

2 medium

]
bell peppers, chopped (use any colour you have available, we used yellow and red)
1 tsp
[

1 tsp

]
sambal oelek (or quantity to preferred taste)
1 tsp
[

1 tsp

]
dried cilantro
1⁄2 tsp
[

1⁄2 tsp

]
dried thyme
1⁄2 tsp
[

1⁄2 tsp

]
chipotle chilli pepper
1⁄4 tsp
[

1⁄4 tsp

]
turmeric
freshly ground black pepper
cooked rice or tortilla chips to serve (check tortilla chips are safe for dietary requirements)
Directions
Put the oil in a large saucepan and gently cook the onion until translucent, then add the ground turkey and cook until browned. You shouldn't need to drain off any fat juices because if you buy lean ground turkey there shouldn't be much fat.
Add the garlic and cook for 1 minute, then add the tomatoes, kidney beans and stock and increase the heat until the contents are bubbling.
Add the peppers, sambal oelek, chilli, turmeric, herbs and black pepper, and mix well. Reduce the heat and simmer, stirring occasionally, for 30 minutes.
Serve with rice, hot crusty gluten free bread, or tortilla chips.
You can easily freeze this recipe, simply wait until it's cold, then spoon single portions into small freezer tubs, label, and freeze. Defrosting completely before cooking will be required.