Chocolate torte royale recipe
"Rich chocolatey dessert cake that you can also serve for afternoon tea"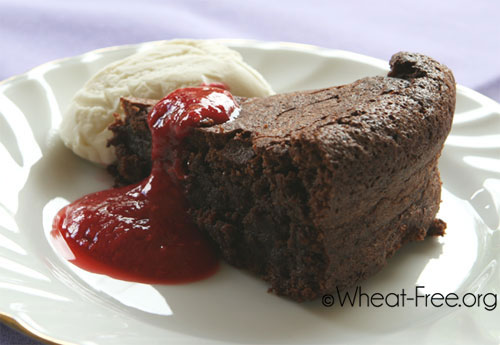 Allergy Information
| | |
| --- | --- |
| Wheat-Free | |
| Gluten-Free | |
| Nut-Free | |
| Dairy-Free | |
| Sugar-Free | |
| Vegetarian | |
| Vegan | |
Preparation time:

25 mins

Cook time:

45 mins

Total time:

1 hr 10 mins

Yield:

serves 6-8
Chocolate, rum, and ground almonds combine in this recipe to make a rich tasting chocolate dessert. When I serve this dessert to guests they just can't believe that it's wheat & gluten free, and I'm sure that yours won't too.
I like to serve this chocolate torte royal with vanilla ice cream and a raspberry puree—which gives a fabulous contrast of sweet and sharp flavours.
Very luxurious, very chocolatey, very moreish.
Ingredients
100g
[

100g

]
unsalted butter, melted
1 shot
[

1 shot

]
freshly brewed espresso (substitute: 1 tbsp dry instant coffee and 2 tbsp hot water to dissolve it in)
160g
[

160g

]
granulated unrefined sugar
1 tbsp
[

1 tbsp

]
confectioners/icing sugar (optional)
Please note this recipe contains nuts
Directions
Preheat oven: 190°C, 375°F, Gas 5
Line a deep 20cm (8") diameter springform tin with non-stick baking paper.
In a large bowl combine the melted chocolate, melted butter, rum, espresso, sugar and ground almonds, mix well.
Stir the egg yolks into the mixture, one at a time and make sure they are well incorporated.
Put the eggs whites into a clean bowl and whisk until they reach the soft peak stage. Using a large metal spoon gently fold the egg whites, a spoonful at a time, into the chocolate mixture. Gently transfer the mix into the prepared tin and level.
Bake in the oven for approximately 45-50 minutes, or until firm. The best test is to stick a toothpick into the centre of the cake, if it comes out very sticky then you need to leave the cake in the oven for a bit longer before testing again. However if it somes out just a little bit sticky then the cake is cooked enough. You are aiming to get slightly fudgey consistency in the centre of the cake.
When cooked remove from oven and leave to cool in tin. Don't panic when the centre of the cake starts to drop during the cooling process, this is normal.
When cool remove carefully remove from tin, as cake will be very fragile. Put on a serving dish and dust with confectioners sugar.
This cake can be served as a chocolate cake, but its fragile nature makes it a little bit messy. I think it's better as a dessert to eat with a pastry fork or spoon—unless of course you like getting your fingers sticky.
Many thanks to Brenda Martin in Canmore, Alberta, Canada, for taking the time to send us this wonderful recipe.