Chocolate tofu mousse recipe
"Quick, creamy chocolate mousse in just 10 minutes, and no-one will suspect it's tofu based"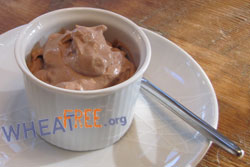 Allergy Information
| | |
| --- | --- |
| Wheat-Free | |
| Gluten-Free | |
| Nut-Free | |
| Dairy-Free | |
| Sugar-Free | |
| Vegetarian | |
| Vegan | |
Preparation time:

10 mins

Yield:

Serves 6-8
This must be the easiest chocolate mousse recipe to make, just 10 minutes and it's done.
But before you turn your nose up at the thought of eating tofu I want to reassure you that you really can't taste tofu—it's flavourless. All you can taste is the chocolate and any added flavourings.
Ingredients (Measures: Metric | US)
250 ml
[

1 cup

]
silken
tofu
2 scoops
[

2 scoops

]
sugar free chocolate protein powder (I used Kaizen 100% Whey Isolate in Decadent Chocolate flavour)
1 tbsp
[

1 tbsp

]
raw cacao, sifted (substitute: unsweetened cocoa powder)
1 tsp
[

1 tsp

]
maple extract (substitute: any flavour pure extract)
50g
[

½ cup

]
sliced almonds
250 ml
[

1 cup

]
stiffly whipped cream
Please note this recipe contains nuts
Directions
Put the silken tofu, protein powder, cacao powder and maple extract into a processor and mix until soft, creamy and well combined, try not to get too much air into the mousse, you want it to be quite thick and creamy.
Remove from the processor, add the almonds and gently mix in with a spoon.
Add the whipped cream and gently fold into the mixture.
Pour into a bowl, cover and refrigerate for at least 2 hours.
Serve with fresh fruit and whipped cream.
See... I told you it was easy.
If you want a more decadent chocolate mousse then instead of the maple extract why not add 2 tsps of rum or brandy. This vanilla shortbread cookie recipe is great for dipping in the mousse.
Chocolate chips would also work well mixed into this mousse, just add before folding in the whipped cream. Add as many or as few as you want, though in my experience more chocolate chips is always better than less, or maybe sprinkle some grated chocolate on the top.