Chocolate truffle torte recipe
"Sinfully decadent, rich chocolate truffle dessert"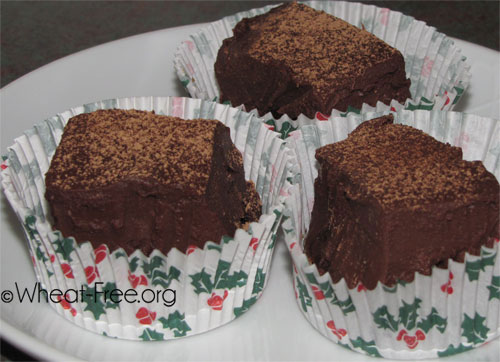 Allergy Information
| | |
| --- | --- |
| Wheat-Free | |
| Gluten-Free | |
| Nut-Free | |
| Dairy-Free | |
| Sugar-Free | |
| Vegetarian | |
| Vegan | |
Special occasions require special desserts, and this chocolate truffle torte certainly ticks all the right boxes for decadence.
It's not often that you can find such an easy, yet impressive, dessert recipe that also has so few ingredients. I'm sure that chocolate lovers will adore this recipe for its smooth, chocolatey sinful scrumptiousness.
Ingredients
500ml
[

500ml

]
heavy cream (substitute: double cream or whipping cream)
1 whole
[

1 whole

]
organic orange zest (substitutes: lemon zest, orange or lemon oil)
400g
[

400g

]
70% cocoa chocolate, chopped
50g
[

50g

]
butter, chopped
2-3 tbsp
[

2-3 tbsp

]
rum (substitute: any other wheat or gluten free liqueur of choice)
-
[

-

]
raw cacao powder for dusting (substitute: cocoa powder)
Directions
Line a 14cm (6½") square or 17cm (7½") round spring release or loose bottom baking tin with baking parchment.
Put the cream and orange zest (or substitute) in a heavy bottom saucepan and heat until the cream slightly bubbles but does not boil. Set aside for 10 minutes to slightly cool and allow the zest to infuse the cream.
Put the chopped chocolate and butter into a large bowl and pour the still warm cream over. The chocolate and butter should melt completely, if they don't then using the bain marie method heat until it is all melted and can be stirred to make a lovely thick chocolatey syrup.
Add the rum and stir to mix, then pour into the prepared tin and allow to cool. Allowing to cool before covering will ensure that the top remains smooth and shiny, if it's still warm when covered the condensation drops will spoil the surface finish.
Once cool, cover and then refrigerate for at least 6 hours, overnight is best.
Before serving dust the torte with cacao powder. Using a hot dry knife blade cut the chocolate truffle torte into portions and place in paper cases or serve in thin wedges (as it's very rich).
Organic vanilla ice cream or a raspberry syrup make great accompaniments to this dessert, or just serve on its own.
This chocolate truffle torte is very rich so I tend to serve it in small individual pieces in paper cases, after all, people can always come back for more. It's also quite sticky so a hot knife is essential when cutting it into portions.