Cherry muffins recipe
"Cherries and coconut make these muffins the perfect partner to afternoon tea, coffee, or as a treat in a bagged lunch"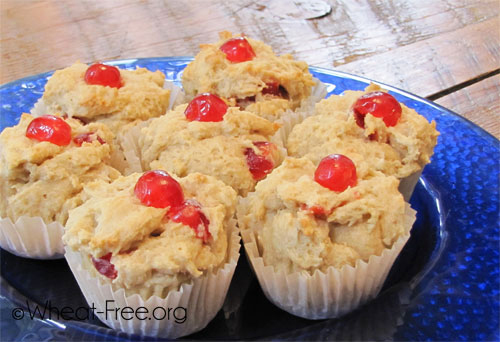 Allergy Information
| | |
| --- | --- |
| Wheat-Free | |
| Gluten-Free | |
| Nut-Free | |
| Dairy-Free | |
| Sugar-Free | |
| Vegetarian | |
| Vegan | |
Preparation time:

20 mins

Cook time:

25 mins

Total time:

45 mins

Yield:

makes 9 large
It appears that we can never have enough muffin recipes, we love 'em. Perfect for an afternoon treat with tea, coffee, or in a bagged lunch.
Glacé cherries come in several types, regular (bright red), natural (sort of browny), and multi-coloured, any of these will work great, though don't be tempted to put frozen or canned cherries in this recipe.
Note: We haven't labelled these vegetarian as the dye used in some brands of red glacé cherries is not vegetable based, see Cochineal.
Ingredients (Measures: Metric | US)
100g
[

1⁄3 cup + 1 1⁄2 tbsp

]
low fat spread, butter or margarine, non-dairy alternative
100g
[

1⁄3 cup + 1 1⁄2 tbsp

]
unrefined sugar
3 medium
[

3 medium

]
eggs, beaten
3 tbsp
[

3 tbsp

]
desiccated or shredded coconut
5 tbsp
[

5 tbsp

]
milk (substitute: any non-dairy alternative of choice)
1⁄2 tsp
[

1⁄2 tsp

]
vanilla extract
100g
[

2⁄3 cup

]
glacé cherries (regular or natural), halved
9
[

9

]
large paper muffin cases
glacé cherries, halved, for decoration on top
Directions
Preheat oven: 180°C, 350°F, Gas 4
Line a large muffin tray with the paper cases.
Put the butter and sugar in a bowl and beat with a wooden spoon or electric mixer until pale in colour, light and creamy.
Add the beaten eggs and milk gradually, beating well between each addition. The mixture may curdle but this will correct itself when the dry ingredients are added.
Add the remaining dry ingredients except the cherries, and beat well until the mixture is smooth and well combined, the mixture will be quite thick.
Gently fold in the cherries, then divide the mixture into the 9 muffin cases, each muffin case will be very full. Stick 1/2 glacé cherry on top of each muffin.
Bake in the oven for approximately 25-27 minutes, make sure that the muffins are cooked by inserting a toothpick in the centre, which should come out clean. Remove from oven.
Leave to stand for 10 minutes in the baking tray and then place on a cooling rack. Only store when they are completely cold.
If you decide to make smaller muffins then adjust the baking time accordingly.
Typical nutrition per muffin: 276 calories, 13g total fat, 3g saturated fat, 0g trans fat, 47g carbohydrate, 3g fibre, 18g sugars, 5g protein, 163mg sodium
These muffins are delicious either hot or cold, and will keep in an airtight container for up to two days, or they can be frozen