Carrot cake #2 recipe
"Moist and filled with carrots and raisins, it's a perfect bagged lunch or afternoon treat"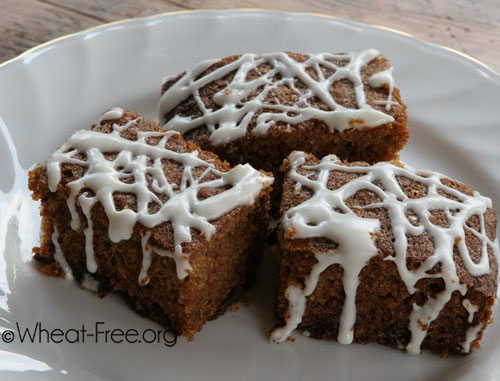 Allergy Information
| | |
| --- | --- |
| Wheat-Free | |
| Gluten-Free | |
| Nut-Free | |
| Dairy-Free | |
| Sugar-Free | |
| Vegetarian | |
| Vegan | |
Preparation time:

25 mins

Cook time:

45 mins

Total time:

1 hr 10 mins

Yield:

makes 12-16
This is a very light textured carrot cake, but it certainly has all the flavour. The spices and orange zest really give it a zingy taste, and as for the smells while it is cooking, you'll have all your neighbours on your doorstep wanting to try a piece.
If you want to serve it without the frosting then it won't detract from the carrot cake flavour, but we think that the addition of the orange frosting really does just finish it off nicely.
Wrap a piece of this for a bagged lunch treat for a tasty end to lunch... and good for your eyesight too (reputedly)!
Ingredients
Cake
175 g
[

175 g

]
light muscovado sugar
175 ml
[

175 ml

]
olive oil
3 large
[

3 large

]
eggs, lightly beaten
140 g
[

140 g

]
carrot, grated
1 large
[

1 large

]
organic orange, grated zest only (non-organic have waxed skins)
50 g
[

50 g

]
fine cornmeal (polenta flour)
1 tsp
[

1 tsp

]
bicarbonate of soda
1 tsp
[

1 tsp

]
ground cinnamon
1⁄2 tsp
[

1⁄2 tsp

]
ground nutmeg
Frosting
100 g
[

100 g

]
confectioner's/icing sugar
1-1 1⁄2 tbsp
[

1-1 1⁄2 tbsp

]
orange juice
Directions
Preheat oven: 180°C, 350°F, Gas 4
Line a baking tin approximately 17cm x 27cm (7" x 11") with baking parchment.
Put the sugar, olive oil and eggs into a large mixing bowl and gently mix together with a wooden spoon until well combined.
Stir in the grated carrots, raisins and grated orange zest. Gently mix together.
Sieve the rice flour, cornmeal, bicarbonate of soda, baking powder, cinnamon and nutmeg into the bowl, and lightly mix all the ingredients together until all the particles are moistened. Do not over mix. The mixture will be quite runny.
Pour the mixture into the prepared baking tin and bake in the oven for 40-45 minutes. Check after 40 minutes to see if it's cooked by inserting a toothpick into the centre of the cake. If it comes out clean then the cake is done. The cake will also feel firm and springy on top.
Remove cake from oven, and leave to stand in the tin for 5 minutes, then remove and leave to cool on a cooling tray.
To make the frosting, mix together the confectioner's sugar and orange juice to make a smooth mixture, the frosting needs to be able to be drizzled over the cake rather than spooned on, so it shouldn't be too thick or too runny.
When the cake is completely cool drizzle the frosting over it and let it drip down the sides of the cake. Leave to set, then cut into pieces.
This cake will keep in an airtight container for 2-3 days, however it also freezes well, but should be frozen without the frosting on top.