Bison meatballs recipe
"Why not try bison instead of ground beef for your next batch of meatballs"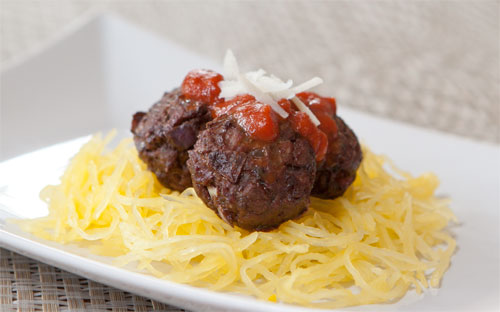 Allergy Information
| | |
| --- | --- |
| Wheat-Free | |
| Gluten-Free | |
| Nut-Free | |
| Dairy-Free | |
| Sugar-Free | |
| Vegetarian | |
| Vegan | |
Preparation time:

20 mins

Cook time:

25 mins

Total time:

45 mins

Yield:

makes 18-20
Meatballs were traditionally made with ground beef, but why not try ground bison as an alternative? Bison is a very lean meat so you won't end up with any fatty residue when you cook these. While I don't eat 'cow' I do like bison... sort of weird I know. Why not give'em a try and break with tradition?
As a serving alternative why not try them with spaghetti squash—loads less calories than pasta, or mashed potato and gravy?
Ingredients (Measures: Metric | US)
Preheat oven: 190°C, 375°F, Gas 5
450g
[

1lb

]
ground bison, check it has no added fillers (substitute: lean ground beef)
1⁄2 medium
[

1⁄2 medium

]
onion, finely chopped
2 cloves
[

2 cloves

]
garlic, minced
1 tbsp
[

1 tbsp

]
fresh cilantro, chopped (substitute: 1 tsp dried cilantro)
freshly ground black pepper
wheat/gluten free pasta sauce to serve
grated parmesan or non-dairy cheese (optional)
Directions
Put the bison, onion, garlic, cilantro and black pepper in a bowl and mix well.
Add the egg and thoroughly combine.
Shape the bison mixture into firm walnut sized meatballs (approx. 2.5cm/1" diameter). You can make them any size you like but you'll have to adjust the cooking time accordingly.
Place meatballs on a baking parchment lined tray with space between each meatball.
Cook meatballs in the oven for 10 minutes, then remove and turn meatballs over, cook for another 15 minutes, or until they are cooked through to the centre. If you've made smaller meatballs then reduce the cooking time, for larger ones increase it.
Serve on top of gluten free pasta or spaghetti squash, top with a spoonful of your favourite wheat/gluten free pasta sauce, and sprinkle with the optional parmesan (leave off of course for dairy free).