Bison chilli recipe
"Try bison in your next chilli instead of ground beef"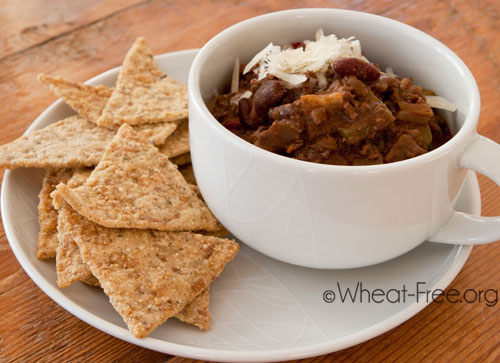 Allergy Information
| | |
| --- | --- |
| Wheat-Free | |
| Gluten-Free | |
| Nut-Free | |
| Dairy-Free | |
| Sugar-Free | |
| Vegetarian | |
| Vegan | |
Preparation time:

15 mins

Cook time:

50 mins

Total time:

1 hr 5 mins

Yield:

serves 4-6
Chilli is one of those great winter comfort foods, especially on a cold winter's day. Traditionally it's made with ground beef, but why not try bison for a change. Bison is a very lean meat, so you shouldn't have a pan swimming with fat during cooking, unlike with some ground meats.
This recipe is very rich, full of taste, and makes a perfect freezer standby for those days when you just don't have the time to cook from scratch. And chilli is renowned for always tasting even better the next day so no-one will complain at eating leftovers.
It's also important to add the chocolate, traditional chilli recipes always include chocolate as it increases the depth of flavour. If you've never tried chocolate in your homemade chilli then then you'll be amazed at how great it makes it taste.
If you use the optional parmesan then it won't be dairy free, but there are non-dairy cheese alternatives available.
Ingredients (Measures: Metric | US)
500g
[

approx. 1lb

]
ground bison, check it has no added fillers
1 tbsp
[

1 tbsp

]
olive oil
2 cloves
[

2 cloves

]
garlic, finely chopped
400g can
[

1 3⁄4 cups

]
chopped tomatoes
400g can
[

1 1⁄2 cups

]
red kidney beans (drained & rinsed)
250ml
[

1 cup

]
stock (vegetable or beef)
1
[

1

]
red pepper, chopped
1
[

1

]
green pepper, chopped
25g
[

1 oz. square

]
unsweetened or semi-sweetened dairy-free chocolate
2-3 tsp
[

2-3 tsp

]
sambal oelek (quantity to preferred taste... we use 4 tsp because we like ours HOT!)
1 tsp
[

1 tsp

]
chipotle chilli pepper
1 tsp
[

1 tsp

]
dried oregano
1 tsp
[

1 tsp

]
dried cilantro
freshly ground black pepper
cooked rice or tortilla chips to serve
grated parmesan or non-dairy cheese (optional)
Directions
Put the oil in a large saucepan and gently cook the onion until translucent, then add the bison and cook until browned. You shouldn't need to drain off any fat juices because pure ground bison is a very lean meat.
Add the garlic and cook for 1 minute, then add the tomatoes, kidney beans and stock and increase the heat until the contents are bubbling.
Add the peppers, chocolate, sambal oelek, chilli, herbs and black pepper, and mix well. Reduce the heat and simmer, stirring occasionally for 45 minutes.
Serve with rice, hot crusty gluten free bread, or tortilla chips, and sprinkle with the optional parmesan.
You can easily freeze this recipe; simply wait until it's cool then spoon single portions into freezer tubs, label, and freeze. Before reheating make sure it is completely defrosted.