Bison bolognese recipe
"Bison is a great way to get some healthy lean red meat into your diet"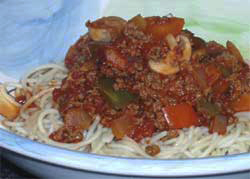 Allergy Information
| | |
| --- | --- |
| Wheat-Free | |
| Gluten-Free | |
| Nut-Free | |
| Dairy-Free | |
| Sugar-Free | |
| Vegetarian | |
| Vegan | |
Bison bolognese is another one of those "go to" comfort recipes, especially on a cold winter's day. Bison is also a very lean meat, so you shouldn't have a pan swimming with fat during cooking unlike with some ground meats.
This recipe is very rich, full of taste, and makes a perfect freezer standby for those days when you just don't have the time to cook from scratch.
If you use the optional parmesan then it won't be dairy free, but there are non-dairy cheese alternatives available.
Ingredients (Measures: Metric | US)
500g
[

approx. 1lb

]
ground bison, check it has no added fillers
1 tbsp
[

1 tbsp

]
olive oil
1 tbsp
[

1 tbsp

]
tomato concentrate
1 clove
[

1 clove

]
garlic, finely chopped
800g
[

4 cups

]
chopped tomatoes
10-12
[

10-12

]
mushrooms, sliced
1
[

1

]
red pepper, chopped
1
[

1

]
green pepper, chopped
2 tsp
[

2 tsp

]
dried mixed herbs
freshly ground black pepper
1 tbsp
[

1 tbsp

]
balsamic vinegar
tagliatelle or pasta shapes
[

tagliatelle or pasta shapes

]
gluten free spaghetti
grated parmesan or non-dairy cheese (optional)
Directions
Put the oil in a large saucepan and gently cook the onion until translucent, then add the bison and cook until browned. Drain off any excess juices, though if it's good quality bison you shouldn't need to drain it.
Add the garlic and tomato concentrate and cook for 1 minute, then add the tomatoes and increase the heat until the contents are bubbling.
Add the mushrooms, peppers, herbs and seasoning, but not the balsamic vinegar, and mix well, reduce the heat and simmer, stirring occasionally for 40 minutes. Then stir in the balsamic vinegar and simmer for another 5 minutes.
Serve on a bed of wheat/gluten free spaghetti
tagliatelle or pasta shapes and sprinkle with the optional parmesan.
You can easily freeze this recipe; simply wait until it's cool then spoon single portions into freezer tubs, label, date, and freeze. Defrosting before cooking will be required.