Carrot cake #1 recipe
"Want to improve your night vision? Allegedly, eating carrots will help, so eat more carrot cake"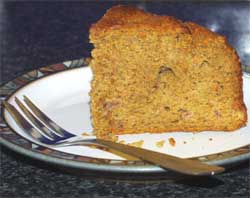 Allergy Information
| | |
| --- | --- |
| Wheat-Free | |
| Gluten-Free | |
| Nut-Free | |
| Dairy-Free | |
| Sugar-Free | |
| Vegetarian | |
| Vegan | |
Preparation time:

25 mins

Cook time:

1 hr

Total time:

1 hr 25 mins

Yield:

serves 8 - 10
This is a very fresh tasting carrot cake recipe without the rich heaviness that some carrot cakes have. It also doesn't contain processed sugars; using the natural sweetness of fruit sugars instead.
Ingredients
115g
[

115g

]
low fat spread, butter or margarine
3 large
[

3 large

]
eggs, beaten
115g
[

115g

]
fresh dates, finely chopped
150g
[

150g

]
carrot, grated
175g
[

175g

]
pear, peeled, cored and pureed
175g
[

175g

]
gluten free flour
2 tsp
[

2 tsp

]
baking powder
2 tsp
[

2 tsp

]
ground cinnamon
1 tsp
[

1 tsp

]
grated nutmeg
1⁄2 tsp
[

1⁄2 tsp

]
mixed spice
Directions
Preheat oven: 190°C, 375°F, Gas 5
Line a 16-18cm (6-7") spring form cake tin with baking parchment.
Cream the low fat spread, butter or margarine in a large mixing bowl, gradually beat in the eggs, the mixture may curdle at this stage, but this will not spoil the cake.
Mix in the dates, carrot and pear, mix well.
Sift the gluten free flour, baking powder, spices and salt, then gently fold into the fruit mixture, making sure it is thoroughly mixed without losing the beaten in air.
Spoon the mixture into the cake tin and bake for 55-60 minutes. To check if cooked insert a clean toothpick into the middle of the cake, it should come out clean.
Remove cake from tin and allow to cool on a wire rack.
Serve with whipped cream, ice cream or Greek yogurt as a refreshing dessert after dinner, or as a cake for afternoon tea. This cake keeps well in an airtight container for 2-3 days.