Peanut butter cookies #1 recipe
"Make these nut free by using Sunbutter Natural Crunch"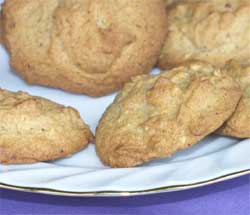 Allergy Information
| | |
| --- | --- |
| Wheat-Free | |
| Gluten-Free | |
| Nut-Free | |
| Dairy-Free | |
| Sugar-Free | |
| Vegetarian | |
| Vegan | |
These peanut butter cookies are very crunchy and make a great snack anytime of the day.
If you wanted to make them nut free you could use Sunbutter Natural Crunch as an alternative, then they should pass the school "no nuts" rule, and make a great bagged lunch or breaktime snack.
Very moreish they are quite high in calories and sugar, so don't eat the entire batch in one go!
Ingredients (Measures: Metric | US)
125g
[

1⁄2 cup + 2 tsp

]
low-fat spread, margarine or butter
175g
[

3⁄4 cup + 1 rounded tbsp

]
light brown sugar
125g
[

1⁄2 cup

]
crunchy peanut butter (substitute: any other crunchy nut butter, or Sunbutter Natural Crunch)
1 large
[

1 large

]
egg, beaten
Please note this recipe contains nuts
Directions
Preheat oven: 180°C, 350°F, Gas 4
Put fat and sugar into a large mixing bowl and cream together, beating well until smooth.
Beat in the peanut butter until thoroughly mixed, then the egg and mix well together.
Add the baking powder and rice flour, mix well to incorporate all ingredients.
For small cookies place teaspoonfuls of mixture on a baking parchment lined baking tray. For larger cookies place two teaspoonfuls of mixture per cookie on baking trays. Ensure that the mixture is spaced out well as the cookies will spread during baking.
For small cookies bake for 16 - 18 minutes, large cookies require 20 - 22 minutes.
Remove cookies from oven when golden brown, allow to cool for a few minutes then transfer to a wire baking rack to fully cool before storing in an airtight container.
These cookies can be eaten slightly warm or cold. They keep well for 2 - 3 days in an airtight container. However at the wheat-free.org kitchen they don't appear to last that long!
Thanks to Margareta Handa for sending us this great cookie recipe (note: wheat-free.org added the Sunbutter option).