Breakfast muffins recipe
"Ideal "grab on the go" breakfast solution with a yummy maple syrup coating"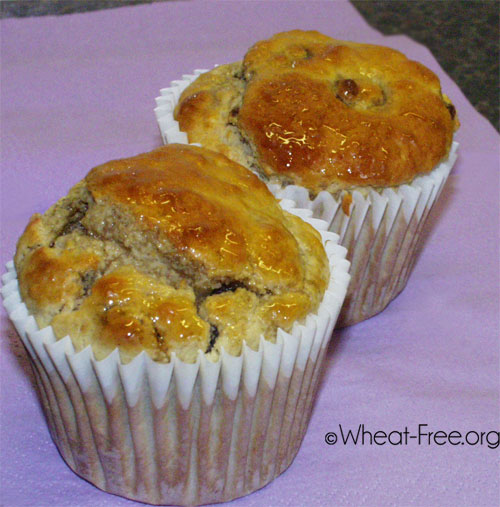 Allergy Information
| | |
| --- | --- |
| Wheat-Free | |
| Gluten-Free | |
| Nut-Free | |
| Dairy-Free | |
| Sugar-Free | |
| Vegetarian | |
| Vegan | |
Preparation time:

15 mins

Cook time:

20 mins

Total time:

35 mins

Yield:

makes 9
These breakfast muffins are ideal for a breakfast on the run, or after an early morning session in the gym. They contain very little sugar, concentrating instead on oats, apricots, and raisins combining together to create a muffin that won't raise your blood sugar levels through the roof.
One of these muffins is substantial enough to keep even the most intense hunger pangs at bay, and they make a great mid-morning pick-me-up with a hot drink.
I recommend that you use organic apricots in this recipe to avoid the preservatives that are usually used in dried apricots. Organic apricots may not look so attractive as their bright orange preservative laden counterparts, but they are better for you, more juicy, and far tastier.
Important note: even using certified gluten free oats it may not be suitable for all celiacs; some celiacs are very sensitive to avenin contained in the oats, see our oats FAQ for more info.
Ingredients
25g
[

25g

]
light brown sugar
1 tbsp
[

1 tbsp

]
baking powder
125g
[

125g

]
organic dried apricots, chopped
250ml
[

250ml

]
semi-skimmed milk
2 large
[

2 large

]
eggs, beaten
50g
[

50g

]
gluten free oats
3 tbsp
[

3 tbsp

]
low fat natural yogurt
2 tbsp
[

2 tbsp

]
olive oil
1-2 tbsp
[

1-2 tbsp

]
maple syrup, for brushing on top
9 large
[

9 large

]
paper muffin cases
Directions
Preheat oven: 190°C, 375°F, gas 5
Line a large muffin tin with 9 large muffin paper cases.
Put the flour, baking powder and sugar into a bowl with the chopped apricots and raisins and mix together.
In a separate bowl mix together the milk, beaten eggs, oats, yogurt and olive oil.
Add the wet ingredients to the dry ones and mix well until a smooth batter is formed. Spoon the mixture into the paper muffin cases.
Bake for 17-20 minutes until golden brown on top. Check that they are cooked completely through by inserting a clean toothpick into the centre of one to test. If the toothpick comes out clean the muffins are cooked.
Remove the muffins from the oven and allow to cool for a few minutes in the baking tin, then transfer to a wire cooling rack and brush generously with the maple syrup. If you wish, after they have cooled a bit more, you could brush them with a second coating of maple syrup to give a thicker sticky topping.
These breakfast muffins can be served either warm or cold, and will keep in an airtight container for up to two days.