Tomato & basil tart recipe
"Get your daily dose of lycopene with this recipe, all those tasty antioxidants in a pie"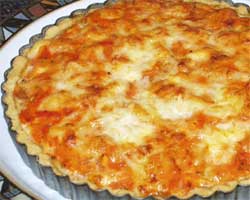 Allergy Information
| | |
| --- | --- |
| Wheat-Free | |
| Gluten-Free | |
| Nut-Free | |
| Dairy-Free | |
| Sugar-Free | |
| Vegetarian | |
| Vegan | |
Tomatoes and cheese go so well together, and cooking tomatoes increases their lycopene content boosting phytochemicals, powerful antioxidants that decrease cancer and heart-disease risk.
Ingredients
Pastry:
75g
[

75g

]
brown rice flour
75g
[

75g

]
gluten free flour
75g
[

75g

]
low-fat spread, margarine or butter
1 tsp
[

1 tsp

]
xanthan gum
Filling:
480g
[

480g

]
tomatoes, seeded and chopped
2
[

2

]
cloves garlic, chopped
1 tbsp
[

1 tbsp

]
tomato puree
1 tsp
[

1 tsp

]
oregano (dried)
2 tbsp
[

2 tbsp

]
fresh basil, chopped
1 medium
[

1 medium

]
egg, beaten
100g
[

100g

]
cheese (the stronger the better)
200g
[

200g

]
mozzarella cheese
Directions
Preheat oven: 200°C, 400°F, Gas 6
Put tomatoes, olive oil, tomato puree, 1 garlic clove, sugar and seasoning in a saucepan, heat until bubbling, then simmer gently for 10 minutes, or until the mixture is thick with no juice visible. Remove from the heat and stir in the other garlic clove, the basil and oregano. Allow to cool.
Mix the flour and fat until it resembles fine breadcrumbs. Add water until it binds into pastry.
Oil and flour a 20cm (8") diameter flan dish.
Place the pastry mix into the flan dish, pressing it around the sides with your hands to make a pastry case. (It will be too fragile to use a rolling pin to roll out.)
Prick the pastry base with a fork and bake in the oven for 10 minutes.
Beat the egg then stir into the tomato mixture.
Remove the pastry case from the oven and place half of each cheese in the bottom. Spoon half of the tomato mixture over the top, put a layer of the cheeses on top (use about half of what's left), then the final layer of the tomato mixture. Finally top with the remainder of the cheese.
Bake on the middle shelf of the oven for 25-30 minutes until golden brown on top and firm.