Tuna bean bake recipe
"Easy store cupboard meal you can make in minutes"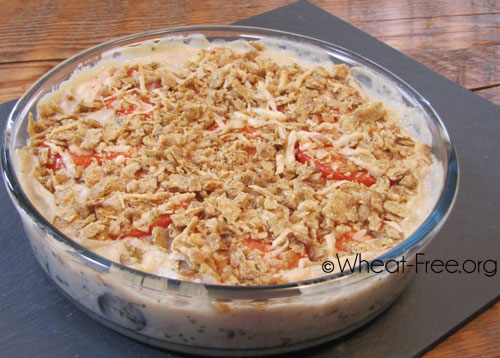 Allergy Information
| | |
| --- | --- |
| Wheat-Free | |
| Gluten-Free | |
| Nut-Free | |
| Dairy-Free | |
| Sugar-Free | |
| Vegetarian | |
| Vegan | |
Preparation time:

15 mins

Cook time:

30 mins

Total time:

45 mins

Yield:

serves 2-4
Tuna and cheese are one of those symbiotic partnerships that are great in any form. Whether in a jacket potato, or in this bake recipe, you can be sure that your mouth will start watering when you smell this cooking.
This recipe is an easy store cupboard meal that you can make in minutes, then stick it in the oven and 30 minutes later you have the perfect quick meal, or winter comfort food.
Ingredients (Measures: Metric | US)
250 ml
[

1 cup

]
milk (substitute: any dairy or unflavoured non-dairy alternative)
20
[

20

]
black olives, stoned & halved
1 tbsp
[

1 tbsp

]
fresh parsley, chopped
400 g
[

14 fl.oz.

]
can cannellini beans, drained (aka white kidney beans)
75 g
[

1 cup

]
goats cheddar, grated (substitute: mature cheddar or any strong tasting cheese)
200 g
[

1

]
can tuna in water, drained
2 large
[

2 large

]
tomatoes, sliced thickly
50 g
[

2⁄3 cup

]
tortilla chips, crushed (check wheat/gluten/nut free status)
freshly ground black pepper
Directions
Preheat oven: 200°C, 400°F, Gas 6
Put cornstarch into a saucepan and add a small amount of milk to make a paste, when thoroughly mixed add the rest of the milk and heat gently, stirring continuously until it thickens.
Stir in the olives, parsley, cannellini beans, freshly ground black pepper and approximately 2/3 of the cheese and mix to combine.
Gently mix in the tuna, trying not to smash the tuna into mush, it's nice to keep some tuna lumps to bite into.
Transfer the mixture into a shallow ovenproof dish.
Arrange the tomato slices on the top.
Mix the remaining 1/3 of the cheese with the crushed tortilla chips, and sprinkle over the top.
Bake in the oven for 30 minutes until the top is golden, serve immediately.
Serve with a baked potato and a few steamed veggies, alternatively it's ideal as a light lunch with a crisp green salad.