Tomato & red pepper soup recipe
"Quick to make winter comfort food with a smokey kick"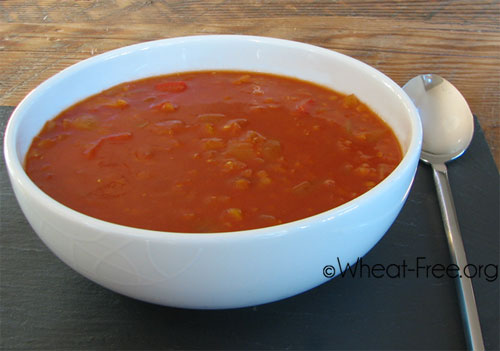 Allergy Information
| | |
| --- | --- |
| Wheat-Free | |
| Gluten-Free | |
| Nut-Free | |
| Dairy-Free | |
| Sugar-Free | |
| Vegetarian | |
| Vegan | |
Preparation time:

10 mins

Cook time:

30 mins

Total time:

40 mins

Yield:

serves 4-6
This soup is amazingly easy to make, and the flavour is absolutely wonderful.
The amount of paprika in the recipe gives the soup a really spicy kick, however you can reduce the quantity of paprika if required without losing any of the flavour.
If you wanted a smooth tomato soup then simply let it cool slightly and transfer in batches to a liquidiser or food processor. Blend until the soup is smooth then return to the saucepan and reheat gently. However I like a solid, rustic feel to this soup so I serve it "lumpy".
Ingredients (Measures: Metric | US)
1 tbsp
[

1 tbsp

]
olive oil
1 large
[

1 large

]
onion, chopped
2
[

2

]
red peppers, de-seeded & chopped
625ml
[

2 1⁄2 cups

]
vegetable stock (check wheat/gluten free)
750ml
[

3 cups

]
tomato juice
100g
[

1⁄2 cup

]
dried red lentils
freshly ground black pepper
Directions
Gently sauté the onion and red pepper in the olive oil for 5 minutes until softened.
Add the paprika and cook for 1 minute.
Add the vegetable stock, tomato juice and red lentils, bring to the boil then cover with a lid and reduce the heat.
Cook on a gentle heat for 25-30 minutes until the lentils are soft.
Remove from heat, season with freshly ground black pepper and serve immediately in warmed bowls.
Serve with hot crusty bagels or cheesey flat bread for a satisfying lunch.
As an optional extra sprinkle some freshly grated parmesan on top.