Stuffed peppers recipe
"Get your carbs, protein, dairy and veg all at once"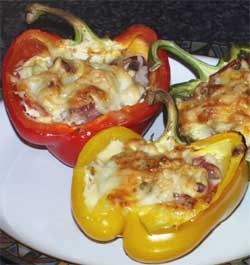 Allergy Information
| | |
| --- | --- |
| Wheat-Free | |
| Gluten-Free | |
| Nut-Free | |
| Dairy-Free | |
| Sugar-Free | |
| Vegetarian | |
| Vegan | |
Preparation time:

15 mins

Cook time:

50 mins

Total time:

1 hr 5 mins

Yield:

serves 3-6
Ingredients (Measures: Metric | US)
1
[

1

]
green pepper, halved and cored
1
[

1

]
red pepper, halved and cored
1
[

1

]
yellow pepper, halved and cored
6 slices
[

6 slices

]
Parma ham or proscuitto
180g
[

1 cup

]
cooked rice (any type)
6 medium
[

6 medium

]
mushrooms, chopped & lightly sautéd
3 tbsp
[

3 tbsp

]
greek yogurt or fromage frais
75g
[

1 cup

]
cheese, grated
freshly ground black pepper
Directions
Preheat oven: 200°C, 400°F, Gas 6
Arrange the split peppers in a greased ovenproof dish.
Put 2 tbsps of rice in the base of each pepper.
Mix the egg and the yogurt together and put 1 tbsp on top of the rice in each pepper.
Scrunch each slice of meat into the peppers on top of the rice, then top with the mushrooms.
Spoon the remaining egg mixture on top of the mushrooms, and cover the top with the grated cheese.
Bake in the oven for 50 minutes.