Tuna pasta bake recipe
"Tasty storecupboard ingredients recipe that everyone will love"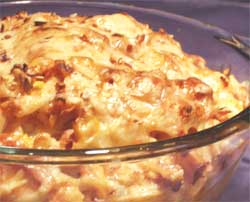 Allergy Information
| | |
| --- | --- |
| Wheat-Free | |
| Gluten-Free | |
| Nut-Free | |
| Dairy-Free | |
| Sugar-Free | |
| Vegetarian | |
| Vegan | |
Preparation time:

25 mins

Cook time:

45 mins

Total time:

1 hr 10 mins

Yield:

serves 2-3
I often have some cold cooked gluten free pasta in the wheat-free kitchen's fridge, so I'll use this instead of cooking the pasta from scratch. It's the perfect way to use up leftover pasta and make the recipe preparation even quicker. Then just stick it in the oven and relax... or do something else.
And if you really want to speed things up even more, use a wheat/gluten free ready made pasta sauce instead of making your own.
Ingredients (Measures: Metric | US)
1 can
[

1 can

]
tuna in water, drained
180g
[

3⁄4 cup

]
sweetcorn kernels, canned (drained) or frozen
400g
[

1 3⁄4 cups

]
can chopped tomatoes
1 tbsp
[

1 tbsp

]
tomato concentrate
1 clove
[

1 clove

]
garlic, crushed
1⁄2 tsp
[

1⁄2 tsp

]
dried mixed herbs
150g
[

2⁄3 cup

]
low fat unsweetened natural yogurt
100ml
[

1⁄3 cup

]
milk (substitute: any unsweetened non-dairy alternative)
2-3 dashes
[

2-3 dashes

]
tabasco sauce
freshly ground black pepper
gluten free pasta, amount to suit appetites
Directions
Preheat oven: 200°C, 400°F, Gas 6
Cook the pasta to al dente, you don't want overcooked pasta or it will turn to mush when you mix in the other ingredients, drain well.
In a separate saucepan put the tomatoes, tomato concentrate, garlic, herbs and tabasco, bring to the boil then simmer for 10 minutes. Allow to cool slightly or when adding the yogurt it will curdle.
Add the yogurt, milk and sweetcorn to the tomato mixture and mix well.
Add the tuna to the pasta and mix to distribute the tuna evenly. Then tip the tomato sauce mixture on top and stir thoroughly but gently so you don't mash up the pasta.
Tip the mixture into an ovenproof dish and top with grated cheese.
Cook in the oven for 45 minutes, until the top is golden and the mixture is bubbling.
Serve on its own or accompanied by a green salad or steamed veggies.