Crunchy chilli tofu recipe
"Alternative way to serve tofu, which will please tofu lovers and surprise tofu sceptics"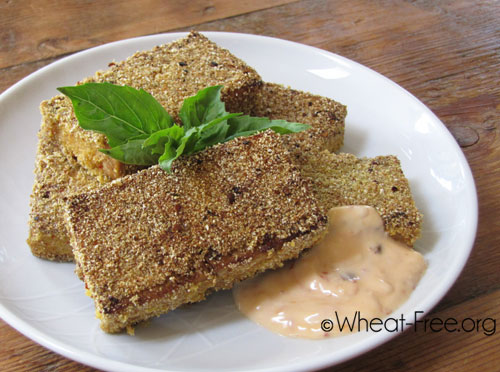 Allergy Information
| | |
| --- | --- |
| Wheat-Free | |
| Gluten-Free | |
| Nut-Free | |
| Dairy-Free | |
| Sugar-Free | |
| Vegetarian | |
| Vegan | |
Preparation time:

20 mins

Cook time:

10 mins

Total time:

30 mins

Yield:

serves 2-3
Like tofu? Then you'll love this alternative way to cook it. For more information on tofu, checkout our Tofu food fact page.
Don't like tofu? Don't like the texture? Then why not try this recipe anyway; it's crunchy, spicy, and a great way to eat vegetarian occasionally.
Ingredients
250g
[

250g

]
organic firm tofu
3 tbsp
[

3 tbsp

]
balsamic vinegar
polenta grains (the quick cook variety)
1 tsp
[

1 tsp

]
hot chilli powder (increase/decrease according to taste)
1 tsp
[

1 tsp

]
crushed chillies (increase/decrease according to taste)
black pepper, freshly ground
1 tbsp
[

1 tbsp

]
olive oil
Directions
Drain the tofu on kitchen towel and pat dry. Slice the tofu into approximately 1 cm (½") thick slices.
Pour the balsamic vinegar onto a plate and place the tofu on top, marinate for about 15 minutes then turn the tofu over and leave for another 15 minutes.
Mix the polenta grains, chilli powder, crushed chillies and pepper together. Coat each piece of marinated tofu in the dry mixture.
Heat the olive oil in a frying pan and add the polenta coated tofu pieces. Cook until golden brown and crunchy on the underside. Then turn the tofu over and cook until crunchy and browned on the other side. This takes about 5 minutes each side.
Serve immediately.
While the rest of the family are tucking into breaded fish why not have this instead, it's delicious with tartare sauce. It's also great with salads and fries, and if you put in in a wheat/gluten free wrap with some salad it makes a great lunch snack.