Crunchy top haddock recipe
"With a lemony yogurt coating and crunchy crushed tortilla top"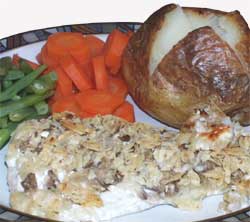 Allergy Information
| | |
| --- | --- |
| Wheat-Free | |
| Gluten-Free | |
| Nut-Free | |
| Dairy-Free | |
| Sugar-Free | |
| Vegetarian | |
| Vegan | |
Preparation time:

15 mins

Cook time:

30 mins

Total time:

45 mins

Yield:

serves 2
Haddock is my favourite fish with it's delicate flavour and big soft flakes, a bit like flower petals. I really miss haddock living in the prairies, though sometimes there's some frozen haddock available in the city 125kms from where I live. So I don't get to eat it very often, even with a freezer stock up if it's available. The scarcity therefore makes this a really enjoyable dish when I can make it.
Top it with a crunchy topping and you'll love the different textures as you eat. The lemon yogurt really enhances the flavours.
Ingredients
1⁄4 tsp
[

1⁄4 tsp

]
olive oil
100g
[

100g

]
greek yogurt (unsweetened & unflavoured)
1⁄2
[

1⁄2

]
lemon, squeezed for juice
1⁄2
[

1⁄2

]
lemon, finely grated peel
75g
[

75g

]
gluten free tortilla chips (check for nut-free)
1 tsp
[

1 tsp

]
dried mixed herbs
Directions
Preheat oven: 180°C, 350°F, Gas 4
Lightly oil the base of an oven proof dish. Place the haddock fillets in the dish.
Squeeze the lemon juice generously over the haddock . Then mix the grated lemon peel with the greek yogurt, and spread completely over the fish.
In a plastic bag put the tortilla chips and crush them up until they look rather like large breadcrumbs. Add the cheese and herbs and shake the bag well to mix.
Thickly spread the tortilla chip mix over the top of the greek yogurt, ensuring the fish have a complete coating.
Oven bake for 30 minutes.
Serve with your favourite veggies and starches.