Vegetarian moussaka recipe
"Using green lentils and chick peas as protein sources it makes a filling, healthy meal"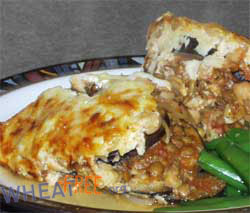 Allergy Information
| | |
| --- | --- |
| Wheat-Free | |
| Gluten-Free | |
| Nut-Free | |
| Dairy-Free | |
| Sugar-Free | |
| Vegetarian | |
| Vegan | |
Preparation time:

1 hr 30 mins

Cook time:

1 hr

Total time:

2 hrs 30 mins

Yield:

serves 4-6
No need to panic if you have a vegetarian dinner guest coming, this vegetarian moussaka is straightforward to make, but will look and taste like you've spent hours slaving over a hot stove.
The secret is not to let the filling mixture stay too wet, so when putting the layers together, drain the filling mix before you layer it on top of the eggplant, make sure you reserve the liquid though, as you will want to pour a little on top of the final lentil mixture layer before adding the final eggplant layer. This will ensure it stays moist—without swimmingin liquid.
Ingredients
2 large
[

2 large

]
eggplants, sliced (aka aubergines)
100g
[

100g

]
dried green lentils (or 400g can, drained)
600ml
[

600ml

]
wheat free/gluten free vegetable stock
1 large
[

1 large

]
onion, sliced
1-2
[

1-2

]
garlic clove, finely chopped
1 tbsp
[

1 tbsp

]
olive oil
400g
[

400g

]
can chopped tomatoes
400g
[

400g

]
can chick peas, drained
250g
[

250g

]
mushrooms, sliced
2 tbsp
[

2 tbsp

]
tomato concentrate
2 tsp
[

2 tsp

]
dried mixed herbs
150ml
[

150ml

]
low fat natural unsweetened yogurt
1 large
[

1 large

]
egg, beaten
100g
[

100g

]
cheese, grated
freshly ground black pepper
Directions
Preheat oven: 180°C, 350°F, Gas 4
Place the sliced eggplant in layers in a large sieve, sprinkling each layer with salt. Cover and leave for at least 30 minutes to allow the bitter juices to be extracted.
Place the lentils, stock and bay leaves in a saucepan and bring to the boil, then simmer for approx. 20 minutes, until the lentils are tender. If you are using canned lentils you can miss this instruction, and add the bay leaves to the main mix while cooking instead.
Heat the olive oil in a large saucepan and gently fry the onion for 4-5 minutes, then add the garlic and fry for 1 minute, continously stirring to avoid it burning.
Stir the drained lentils, tomatoes, chick peas, mushrooms, tomato concentrate, herbs and water into the onions. Bring to the boil and simmer covered for 10 minutes. Season to taste and remove the bay leaves.
Preheat the oven.
Rinse the eggplant slices under cold running water and pat dry with kitchen paper. Place slices on a plate and microwave for 1 minute. Repeat this until all the slices have been microwaved, (traditional method is to fry the slices, which can be done in this recipe if preferred).
Arrange a layer of eggplant on the bottom of a deep casserole dish, spoon over a layer of half the lentil mixture. Add another layer of eggplant, and then the remaining lentil mixture, add a final layer of eggplant.
Beat together the yogurt and egg, and season. Pour over the final eggplant layer.
Sprinkle grated cheese on the top, and freshly ground black pepper, bake for 60 minutes until the cheese topping is browned and bubbling.
Serve with a crisp side salad, lightly steamed vegetables, or warm gluten free bread.