Leek tart recipe
"Light vegetarian meal that is great hot or cold"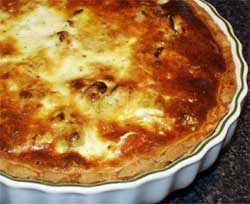 Allergy Information
| | |
| --- | --- |
| Wheat-Free | |
| Gluten-Free | |
| Nut-Free | |
| Dairy-Free | |
| Sugar-Free | |
| Vegetarian | |
| Vegan | |
Preparation time:

30 mins

Cook time:

40 mins

Total time:

1 hr 10 mins

Yield:

serves 6-8
This cheese & leek tart is perfect to serve up for your ovo-lacto vegetarian dinner guests, and they certainly won't feel that they're missing out. There's also a version containing cheese, cheese leek tart recipe.
Whenever I make this recipe to take to a pot luck you can guarantee that I rarely get a piece because all the meat-eaters present bear down on it like a plague of locusts. In fact, I often take an extra individual one with me to make sure I get a piece that hasn't been showered with burger bun crumbs during the general melee that often seems to accompany the food rush at less personal pot luck events.
Hot or cold, this leek flan is also great for packed lunches, picnics, light lunches, or even a mid-afternoon snack.
Ingredients (Measures: Metric | US)
pastry:
100g
[

1⁄3 cup + 2 tbsp

]
low-fat spread, margarine or butter
filling:
3-4 medium
[

3-4 medium

]
leeks, trimmed and sliced
1 tbsp
[

1 tbsp

]
olive oil
1 1⁄2
[

1 1⁄2

]
wheat free vegetable stock cubes (or use double the powder required to make 100ml stock)
60ml
[

1⁄4 cup

]
boiling water
180g
[

3⁄4

]
greek yogurt (or natural yogurt or fromage frais, unflavoured & unsweetened)
3 large
[

3 large

]
eggs, beaten
black pepper, freshly ground
Directions
Preheat oven: 200°C, 400°F, Gas 6
Place the leeks and olive oil in a saucepan and sweat until the leeks are softened.
Make the strong vegetable stock and pour it over the leeks, simmer the leeks uncovered over a low heat to avoid burning, stirring regularly until all the stock has been absorbed.
Mix the flours, fat, and xanthan gum until it resembles fine breadcrumbs. Add water until it binds into pastry.
Oil and flour a 20-22cm (8"-9") diameter flan dish.
Place the pastry mix into the dish, pressing it around the sides with your hands to make a pastry case. (It will be too fragile to use a rolling pin to roll out)
Lightly prick the pastry base with a fork, do not pierce all the way through.
Spoon the leeks into the pastry case.
Mix the yogurt with the eggs and season. Pour over the leeks.
Bake on the middle shelf of the oven for 40-45 minutes until golden brown on top and firm.