Chocolate brownie recipe
"Wheat, gluten, sugar & dairy free... seriously, and still tastes like chocolate brownie"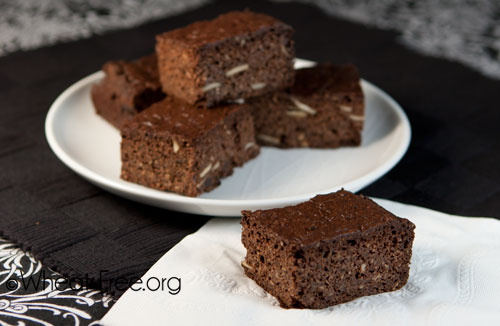 Allergy Information
| | |
| --- | --- |
| Wheat-Free | |
| Gluten-Free | |
| Nut-Free | |
| Dairy-Free | |
| Sugar-Free | |
| Vegetarian | |
| Vegan | |
Preparation time:

15 mins

Cook time:

40 mins

Total time:

55 mins

Yield:

serves 16
At first it seemed like an impossible task to make a chocolate brownie that was wheat, gluten, sugar & dairy free, but after much prompting by my husband I did it!
Because there is no sugar this chocolate brownie won't taste as sweet or have the same fudgy, sticky texture that normal chocolate brownie has, however if you can't eat sugar (like my husband) then it's still a sweet treat. And the really great thing is that there are no sugar rush after-effects leaving you craving more pieces.
Of course if you can eat sugar and dairy then the alternative chocolate fudge brownie recipe is a great choice too.
Ingredients (Measures: Metric | US)
210g
[

1¾ cups

]
ground almonds
50g
[

½ cup

]
raw cacao or unsweetened cocoa, sifted
40g
[

1⁄3 cup

]
sliced almonds
50g
[

2 x 1oz squares

]
unsweetened chocolate, chopped into small pieces
1⁄2 tsp
[

1⁄2 tsp

]
baking soda (bicarbonate of soda)
6 tbsp
[

6 tbsp

]
boiling water
250 ml
[

1 cup

]
coconut milk
125 ml
[

½ cup

]
coconut oil, melted
2 tsp
[

2 tsp

]
vanilla extract
1 tsp
[

1 tsp

]
lemon juice (optional: lime juice if you don't have lemon)
12-15 drops
[

12-15 drops

]
Stevia liquid extract or 6 single serve packets Stevia powder (you could also use chocolate flavoured liquid Stevia)
Directions
Preheat oven: 180°C, 350°F, Gas 4
Line a 27cm x 17cm (11" x 7") baking tin with non-stick baking paper.
Put the ground almonds, cacao, sliced almonds, broken chocolate, baking soda and salt into a large bowl and mix well.
Mix the water, eggs, coconut milk, coconut oil, vanilla, lemon juice and stevia together.
Pour wet ingredients onto dry ingredients and mix until all the ingredients are combined thoroughly.
Pour the brownie mix into the baking tray and bake in the centre of the oven for 40-45 minutes. After 40 mins check by poking a toothpick into the centre of the brownie. If it comes out clean or is just a little sticky then the chocolate brownie is done, if it's very sticky then leave in oven for another few minutes before trying again. Don't overcook, it's better for the brownie to be slightly sticky than dry.
Remove from oven and leave in tray to set for another 30 mins, then remove to a cooling rack and slice into 16 pieces.
This sugar free chocolate brownie needs to be stored in an airtight container in the fridge to maintain its moistness and freshness. It also freezes well, simply line an airtight freezer box with wax paper and put the chocolate brownie pieces inside, layering with wax paper, and covering the top layer with a final piece of wax paper.