Baked cherry tomatoes recipe
"Get a healthy dose of lycopene, a potent antioxidant, from this recipe"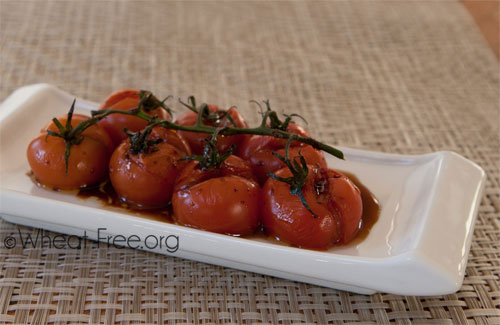 Allergy Information
| | |
| --- | --- |
| Wheat-Free | |
| Gluten-Free | |
| Nut-Free | |
| Dairy-Free | |
| Sugar-Free | |
| Vegetarian | |
| Vegan | |
Preparation time:

5 mins

Cook time:

10 mins

Total time:

15 mins

Yield:

serves 2
Baked tomatoes have a lovely flavour and they also have a healthy secret. Tomatoes contain lycopene, which is known to be a potent antioxidant. It has been strongly linked to a reduced risk of developing some deadly cancers such as colon, rectum and prostate cancer.
Lycopene is absorbed best into the body from cooked tomatoes, so things like baked tomatoes, tomato concentrate, tomato ketchup and tomato based pasta sauces are ideal sources. Tomatoes that have been ripened on the vine also have more lycopene present than ones that were ripened after they were picked.
So not only do baked tomatoes contribute a colourful addition to a meal, they are also extremely good for you.
Ingredients
cherry tomatoes, on the vine if possible, enough for 2 people
1 tbsp
[

1 tbsp

]
balsamic vinegar
Directions

Preheat oven: 200°C, 400°F, Gas 6
Wash and dry the cherry tomatoes, taking care not to pull them off the vine. If you can't get tomatoes on the vine then any tomatoes will do, just pack them together to stop them rolling over and spilling out the oil and balsamic from the slit.
Place the cherry tomatoes in an ovenproof dish and then with a sharp knife slice the tomato across the centre, but only go as deep as about one third down the depth of the tomato. Slightly widen each slit with the knife.
Drizzle the olive oil and balsamic vinegar over the tomatoes, making sure that plenty goes into each slit.
Bake for 10 minutes, then serve hot, still attached to the vines.