Apple strudel recipe
"Spicy apples, dried fruit and nuts make this a mouthwatering comfort food for cold winter days"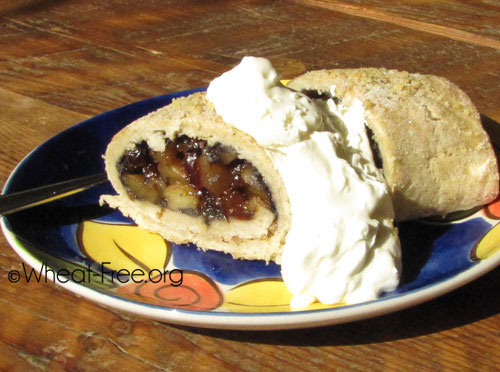 Allergy Information
| | |
| --- | --- |
| Wheat-Free | |
| Gluten-Free | |
| Nut-Free | |
| Dairy-Free | |
| Sugar-Free | |
| Vegetarian | |
| Vegan | |
Apple Strudel was a favourite pastry of mine before having to go wheat free—especially for breakfast. Having eaten Apple Strudels around the world this version is a really good substitute for the wheat containing versions.
The pastry on my photo is quite thick, and although I could have made it a little thinner it would have made the strudel more fragile—sometimes you just need to pick things up and eat them with your hands, especially if a clean plate and fork aren't handy. You may want to make the overlap pastry thinner too, to avoid chewing through very thick doubled pastry.
If you want to make this recipe nut free simply leave out the walnuts and add some extra dried fruits.
This recipe was adapted from Living Without Magazine, February/March 2010, Apple Cranberry Strudel recipe.
Ingredients (Measures: Metric | US)
Pastry:
200g
[

1 1⁄4 cups

]
white rice flour
30g
[

1⁄4 cup

]
sweet rice flour
35g
[

1⁄4 cup

]
sorghum flour
4 tsp
[

4 tsp

]
xanthan gum
1 tsp
[

1 tsp

]
vegetarian gelatine (I used Agar flakes)
1 large
[

1 large

]
egg, beaten
60-125ml
[

1⁄4-1⁄2 cup

]
milk, warmed (substitute: almond, rice, soy milks)
115g
[

1⁄2 cup

]
butter, margarine or non-dairy alternative, melted
1 tbsp
[

1 tbsp

]
agave syrup
Filling:
3
[

3

]
apples, peeled and diced (firm, not too sweet varieties are best e.g. Granny Smith, Fuji, Braeburn)
60ml
[

1⁄4 cup

]
unsweetened apple juice
80g
[

1⁄4 cup

]
100% fruit apricot spread (I used St Dalfour which has no added sugar)
1 tsp
[

1 tsp

]
lemon juice
100g
[

3⁄4 cup

]
raisins (substitute: any dried fruit, or a mix)
60g
[

1⁄2 cup

]
finely chopped walnuts
3⁄4 tsp
[

3⁄4 tsp

]
cinnamon
1 tbsp
[

1 tbsp

]
walnut oil
Directions
Pastry:
Mix flours, xanthan gun and vegetarian gelatine together.
In a separate bowl mix the egg, milk, melted butter and agave together.
Gradually mix the wet ingredients into the dry ingredients, you should end up with a soft dough. Make sure it doesn't get too sticky by adding too much liquid at once.
Wrap the pastry in plastic wrap to keep from drying out, and keep at room temperature until ready to use.
Filling:
Preheat oven to: 200°C, 400°F, Gas 6
Line a baking sheet with baking parchment.
In a medium pan combine the diced apples, apple juice, apricot spread, lemon juice, raisins and ½ tsp cinnamon. Cook gently until the apples are softened and the apple juice has been absorbed. Remove from heat and allow to cool.
Mix the sugar and ¼ tsp cinnamon together and set aside.
To avoid getting really messy when trying to fill the fragile pastry, split in into two and make two strudels using half the filling in each. Roll out the first pastry half on a lightly white rice floured surface, try to get it approximately 6mm thick (¼") thick and rectangular in shape, or trim it to size.
Lightly brush the pastry with walnut oil, then sprinkle with chopped walnuts, make sure to reserve enough for the other half, and also some to sprinkle on top. Spread half the apple mix along the short side of the pastry rectangle, starting 5cm (2") in from the edge, and leaving a 2.5cm (1") gap at the longer sides, the filling will naturally squidge out to the sides when being rolled.
Fold the short side pastry border over the filling and gently roll it up. Repeat with the othe strudel and place both, seam side down, on the baking sheet.
Brush with walnut oil and sprinkle with the remaining chopped walnuts and the cinnamon sugar mix.
Bake for 15 minutes, then reduce the oven temperature to 180°C, 350°F, Gas 4 for 15-20 minutes, until the pastry is golden brown on top.
Serve this Apple Strudel with freshly whipped cream, vanilla ice cream, or custard. It's also great cold, or can be gently warmed in the microwave. Store any leftovers in the fridge.