Apricot torte recipe
"Light meringue style sponge filled with a whipped cream and apricot mousse"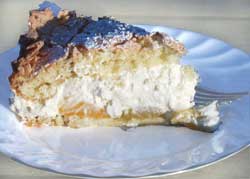 Allergy Information
| | |
| --- | --- |
| Wheat-Free | |
| Gluten-Free | |
| Nut-Free | |
| Dairy-Free | |
| Sugar-Free | |
| Vegetarian | |
| Vegan | |
This apricot torte is a meringue style dessert and very light and airy, but also quite fragile as a result. It's more of an eat with a fork or spoon on a plate type of dessert, rather than a hands on type, unless of course you don't mind getting very messy.
It tastes amazing with the flavourful apricots and just a touch of brandy—which you could leave out if you wanted alcohol free.
This recipe contains raw egg whites, which are not suitable for some people to eat.
Ingredients
Meringue
110g
[

110g

]
caster/fine sugar (I used golden caster sugar)
2-3 drops
[

2-3 drops

]
almond extract
800g
[

800g

]
apricot halves in juice, drained
Filling:
11g
[

11g

]
sachet gelatine (substitute: vegetarian alternative e.g. Agar flakes)
50g
[

50g

]
caster/fine sugar
2 medium
[

2 medium

]
egg whites
300ml
[

300ml

]
double or whipping cream
confectioner's(icing) sugar to dust
Please note this recipe contains nuts
Directions
Line a 23 cm (9 ") spring clip baking tin with baking parchment.
Place the eggs and sugar in a large bowl over a pan of hot water. Whisk the mixture until thick enough to leave a ribbon trail when the whisk is lifted out. Fold in the ground almonds, cornstarch and almond extract with 2 tbsp of hot water.
Pour into the prepared tim and bake for 20 - 25 minutes or until sponge bounces back when lightly touched in the centre. Leave to cool and then remove from the tin.
Line a 20 cm (8") spring clip baking tin with clear film. Then using the base of the tin as a guide, trim the sponge to fit the tin. Cut the sponge in half horizontally and place one half in the base of the tin. Arrange enough apricots over the sponge to cover it, sprinkle over the brandy and set aside.
Now make the filling. In a small bowl sprinkle the gelatine over 3 tbsp cold water and leave until spongy, then stand the bowl in a pan of hot water and stir until dissolved. If you are using vegetarian gelatine then follow the packets instructions. Leave to cool.
Place remaining apricots in a food processor with the caster sugar and blend until smooth. Transfer to a bowl. Whisk the egg whites and cream in a separate bowl until just stiff. Working quickly stir the cold gelatine into the puréed apricots, then fold in the cream and egg whites. Pour the mixture into the tin over the apricot halves, and chill for 1 hour.
Place the second sponge on top and chill for a further 2 hours.
Remove from the tin carefully, as it will be quite fragile, dust with confectioner's(icing) sugar and serve.
Keep in the fridge until ready to serve, and replace in the fridge to keep cool if not eating all in one sitting.