Soya chilli recipe
"Soy chunks in a flavourful chilli, and don't forget the chocolate!"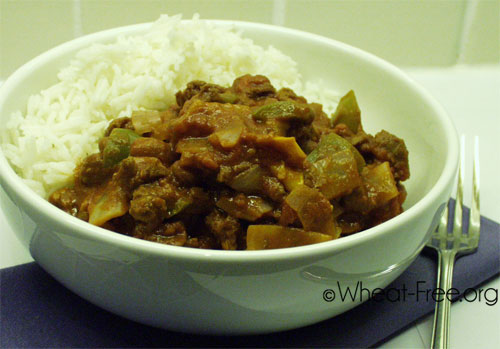 Allergy Information
| | |
| --- | --- |
| Wheat-Free | |
| Gluten-Free | |
| Nut-Free | |
| Dairy-Free | |
| Sugar-Free | |
| Vegetarian | |
| Vegan | |
As all chilli fans know, the secret to the best chilli is to put chocolate in it. This chunky chilli makes a hearty meal, and if you count the chocolate, then it's dessert as well.
Soya/soy chunks have a meat-like texture, and come in unflavoured or flavoured versions. After hydration simply use them the way you would use meat or TVP alternatives.
Ingredients
100g
[

100g

]
soya/soy chunks
500ml
[

500ml

]
cold water, for soaking soya/soy chunks
1 large
[

1 large

]
onion, chopped
1 tbsp
[

1 tbsp

]
olive oil
1 tbsp
[

1 tbsp

]
tomato puree
2 tsp
[

2 tsp

]
mixed herbs
1
[

1

]
fresh chilli, chopped
chilli powder, quantity to taste
2 x 400g
[

2 x 400g

]
cans chopped tomatoes
1 x 400g
[

1 x 400g

]
can kidney beans, drained
1 large
[

1 large

]
green pepper, seeded & chopped
1 large
[

1 large

]
red pepper, seeded & chopped
25g
[

25g

]
70% (dark) chocolate
freshly ground black pepper
Directions
Soak the soya chunks in the cold water for at least one hour. Drain throughly before use.
Put the olive oil and chopped onion into a large saucepan and lightly brown the onion. Add the tomato puree and cook for about 30 seconds.
Add the chopped tomatoes, herbs, chopped chilli, chilli powder, kidney beans, chopped peppers, drained soya chunks and freshly ground black pepper and mix thoroughly.
Cover the pan and bring to the boil then turn down the heat and simmer for 20 minutes. At the end of this time add the optional chocolate chunks and stir until they have melted and mixed well. Simmer for another 20 minutes. The chilli should have approximately 40 minutes cooking time, excluding time spent cooking the onion.
Serve on a bed of rice, or in large bowls with wheat free tortilla chips & sour cream.
I really do recommend that you put the chocolate into any chilli recipe. It gives an amazing richness to the texture and depth to the flavour, I wouldn't make any chilli without it.