Baked kale chips recipe
"Healthy chips to satisfy those cravings, and a great way to get the kids eating more veggies"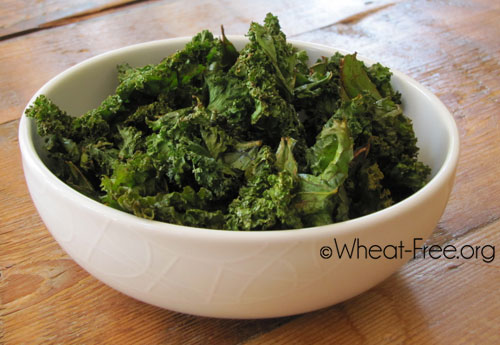 Allergy Information
| | |
| --- | --- |
| Wheat-Free | |
| Gluten-Free | |
| Nut-Free | |
| Dairy-Free | |
| Sugar-Free | |
| Vegetarian | |
| Vegan | |
Preparation time:

5 mins

Cook time:

12 mins

Total time:

17 mins
While we all know that kale is very good for you, for some reason I just struggle a little with its chewiness in most recipes, however bake it and it becomes an entirely different vegetable. Baked kale is crunchy so it makes a healthy alternative to potato chips.
Baked kale is also a great way to get the kids eating more veggies.
Ingredients
2 tsp
[

2 tsp

]
olive oil + extra for oiling baking sheet
1⁄2 tsp
[

1⁄2 tsp

]
sea salt
1⁄2 tsp
[

1⁄2 tsp

]
chipotle chilli (optional)
Directions
Preheat oven: 180°C, 350°F, Gas 4
Lightly oil a baking sheet big enough for a single layer of kale chips, they don't cook so well if they are laying on top of each other.
Wash the kale and thoroughly dry, either use a salad spinner or pat gently with paper kitchen towel.
Remove the thick stems from the kale, and tear the leaves into bite sized pieces.
Put the olive oil, sea salt and optional chipotle chilli into a large bowl, add the kale pieces, cover with clingfilm and shake the bowl until all the kale is lightly coated with oil etc, you could also use a large Ziploc bag to do this.
Spread the kale on the baking sheet in a single layer.
Bake in the oven for 8 minutes, remove and gently stir/flip over the kale, return to the oven for another 4-7 mins (depending on how crisp you like them). By now the kale chips should be very crispy, if not, add 1 minute at a time to the baking.
Serve hot or cold
Other optional flavours (subject to dietary requirements):
finely grated parmesan, garlic powder, smoked paprika, organic lemon zest
These baked kale chips are going to be too fragile for dips, however very light, runny sauces could be used as an alternative to drizzle over the top.