Pecan bars recipe
"If you like pecans you'll love this recipe, it's nutty, goey, and crunchy"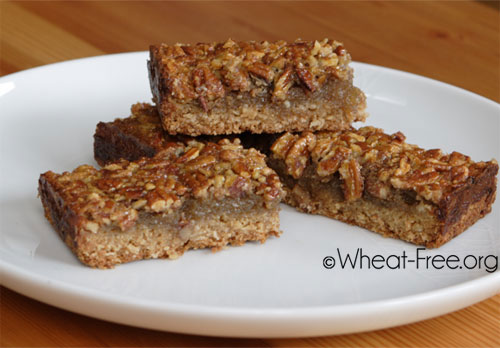 Allergy Information
| | |
| --- | --- |
| Wheat-Free | |
| Gluten-Free | |
| Nut-Free | |
| Dairy-Free | |
| Sugar-Free | |
| Vegetarian | |
| Vegan | |
If you love pecans you'll love this recipe. It's a very aromatic recipe while it's cooking and cooling. My favourite time to eat it is when it is still slightly warm and gooey.
Important: even using certified gluten free oats it may not be suitable for all celiac disease sufferers as some are very sensitive to avenin contained in the oats, see the oats FAQ for more info.
Ingredients
Base:
115g
[

115g

]
butter, softened
Topping:
225g
[

225g

]
Tate & Lyle golden syrup
125g
[

125g

]
pecan nuts, coarsely chopped
3 large
[

3 large

]
eggs, beaten
1 tbsp
[

1 tbsp

]
oat
flour
1 tsp
[

1 tsp

]
vanilla extract
Please note this recipe contains nuts
Directions

Preheat oven: 180°C, 350°F, Gas 4

To make base:
Line a 23cm square (9" sq.) baking tin with baking parchment.
Put the butter, oat flour, brown sugar, oats, and xanthan gum in a large mixing bowl. Mix together until well combined.
Press into the base of the baking tin and bake in the oven for 15 minutes. When cooked remove from oven and set aside.
Change oven temperature: 200°C, 400°F, Gas 6

To make topping:
Mix syrup, pecans, eggs, oat flour, vanilla, and salt in a bowl. Make sure that everything is coated well.
Pour over the baked base and put back in the oven for 25-30 minutes.
When cooked a skewer inserted into the centre should come out just slightly sticky.
Remove from the oven and leave the pecan bars in the baking tin until they have cooled a bit.
It's best to cut into bar shapes while still slightly warm.
If you don't have oat flour, then simply put regular oats in a blender/processor and whizz until they resemble oat flour.