Chocolate protein energy bars recipe
"Make your own energy bars for sports refuelling or a snack in the office, slow release energy oats will perk you up any time of the day"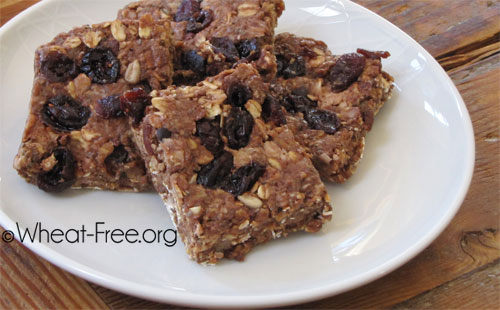 Allergy Information
| | |
| --- | --- |
| Wheat-Free | |
| Gluten-Free | |
| Nut-Free | |
| Dairy-Free | |
| Sugar-Free | |
| Vegetarian | |
| Vegan | |
Preparation time:

10 mins

Yield:

makes 16 bars
Finding energy bars that aren't overloaded with sugar is quite challenging, after all, the idea of an energy bar is to give you a boost—hence the sugar. However, it is possible to make your own energy bars that will provide a sustained energy release by using oats.
I like these energy bars because they have just the right amount of sweetness from the protein powder (which is sugar-free), and a lovely coconut flavour, as well as crunchy bits from the cacao nibs and sunflower seeds, and you don't even need to bake them. Ideal to wrap and take on a hike, bike ride, or just as an afternoon pick-me-up.
Important note: even using certified gluten free oats it may not be suitable for all celiacs; some celiacs are very sensitive to avenin contained in the oats, see our oats FAQ for more info.
Ingredients (Measures: Metric | US)
200 ml
[

¾ cup + extra if required

]
cold water
3 scoops
[

3 scoops

]
chocolate whey protein powder (we used Kaizen 100% Whey Isolate in Decadent Chocolate flavour - 1 scoop = 1/3 cup = 40g)
3 tbsp
[

3 tbsp

]
sunflower seeds
3 tbsp
[

3 tbsp

]
cacao nibs
1 tbsp
[

1 tbsp

]
raw cacao powder
125 ml
[

½ cup

]
coconut butter, semi-melted
60 g
[

½ cup

]
dried cranberries (optional)
oats, for sprinkling in bottom of tray
Directions
Line a baking tray 20cm x 25cm (8" x 10") with baking paper. Sprinkle with some oats, this will help the bars to release more easily from the baking paper, otherwise they do stick to it quite well.
Put the oats in a large bowl and pour the water over the top, stir the oats, then leave them for about 15 minutes to absorb the water.
Add the protein powder, chia, sunflower seeds, cacao nibs and cacao powder and mix well.
Add the coconut butter and stir until the mixture is no longer dry. It takes a bit of effort to get everything combined. If the mix still looks too dry then add ½ tbsp of water at a time. Do not add too much extra water as the mixture will very quickly turn too soft. Hint: if this does happen simply add more oats until the mixture is fairly stiff again.
Spoon the mixture into the prepared pan and spread about equally. If you are using the optional cranberries sprinkle them over the top of the mixture, then press the mixture flat with the back of a spoon. This will compress it into solid bars.
Cover and put in the freezer for approximately 30 minutes, remove from freezer and cut into bars. Store in the fridge in an airtight container.
This recipe was adapted from a recipe in Oxygen Magazine