Red dragon pie recipe
"Tasty vegetarian meal using aduki beans, a nutritious legume highly prized by the Chinese"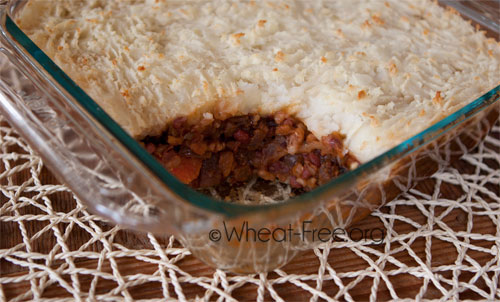 Allergy Information
| | |
| --- | --- |
| Wheat-Free | |
| Gluten-Free | |
| Nut-Free | |
| Dairy-Free | |
| Sugar-Free | |
| Vegetarian | |
| Vegan | |
Preparation time:

30 mins

Cook time:

1 hr 20 mins

Total time:

1 hr 50 mins

Yield:

serves 3-4
This is a very tasty and substantial vegan dish and perfect for cold winter days. It also reheats really well in the microwave for a quick leftovers lunch.
Ingredients (Measures: Metric | US)
Preheat oven: 200°C, 400°F, Gas 6
110g
[

2⁄3 cup

]
raw
red dragon beans
, also known as aduki (substitute: 400ml/14 fl.oz. can ready cooked beans, drained and rinsed)
cold water for soaking beans
1 tbsp
[

1 tbsp

]
olive oil
1
[

1

]
onion, finely chopped
2
[

2

]
carrots, cleaned and chopped
1
[

1

]
parsnip, peeled, cored and chopped
150g
[

1 cup

]
cooked rice (white, brown or wild - we used a wild rice blend)
2 tbsp
[

2 tbsp

]
tomato puree
1 tsp
[

1 tsp

]
dried mixed herbs
freshly ground black pepper
3 medium
[

3 medium

]
baking potatoes, peeled and chopped
2 tbsp
[

2 tbsp

]
vegan butter/margarine spread
Directions
WARNING:
When using any type of dried legumes in cooking they must be cooked first according to the instructions on the manufacturers packet. It is also essential to ensure that the recommended boiling period is included to expel the toxin present in dried pulses. For further details on aduki beans check out our Aduki bean food fact file.
Follow the preparation instructions for the red dragon (aduki) beans on the packet, ensuring that they are soaked thoroughly overnight. The next day cook them according to the packet instructions. Drain the beans and keep the bean stock. Return the beans to the saucepan.
If you are using canned aduki beans, then drain and thoroughly rinse to remove any excess salt.
In a frying pan heat the oil and gently fry the onion for 5 mins. Add the carrots and parsnips and cook for a further 2-3 mins. Add these vegetables to the beans, and add the rice.
Mix the Tamari, tomato puree and herbs with 350 ml of bean stock (you may need to make it up to this quantity with cold water), or vegetable stock. Pour this over the bean mixture.
Bring the mixture to the boil then simmer for 30 mins, season to taste. You may need to add more liquid to make sure the mixture stays moist.
While the bean mixture is simmering put the potatoes in a saucepan with water and cook until tender. Mash with the butter, the mashed potato should be quite dry and firm.
Transfer the bean mixture into a shallow ovenproof dish.
Spread the mashed potatoes over the bean mixture, try to seal the edges with potato so that the filling doesn't bubble up too much over the potato, bake for 40-45 mins at the top of the oven until the potato is golden brown and crisp.
Serve with steamed vegetables, you could also pour a rich spicy tomato sauce over it.